In 1989, four young #black men, and one Latino man was accused of raping and beating a 28-year-old investment banker. The banker often ran in the park evenings after work. The young woman was left with no memory of the attack. The young men, #Kevin Richardson, Raymond Santana Jr., #Kharey Wise, #Yusef Salaam, #and Antron McCray were arrested and put through hours of police interrogation. The goal of the police department was to get the boys to confess to the crime. However, the police never had physical evidence that could link them to the crime. The boys ages ranged from 14 to 16, and they were later convicted and sentenced to 5-13 years in prison.
Years later in 2002, a Manhattan district attorney, Robert M. Morgenthau, found evidence and DNA that identified the rapist not as the five young men, but as being another man, Matias Reyes, who was already a convicted rapist and murderer. Reyes later confessed to the act, and said he acted alone. Mr. Morgenthau's office joined a defense motion asking that the convictions of the "#Central Park Five" be vacated.
New York Supreme Court Justice, Charles J. Tejada, granted the motions of defense attorneys and District Attorney Robert Morgenthau to vacate the convictions of the "Central Park Five."  There were detectives who continued to maintain that the defendants were indeed guilty or accomplices to the crime.  All of the young men had completed their prison sentences at the time their convictions were vacated. They boys who were now men had always maintained their innocence in the case.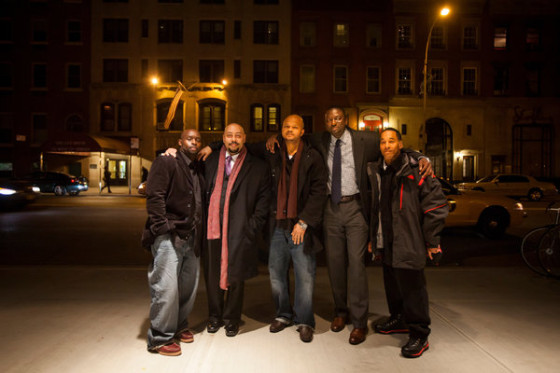 Following their exonerations, the men, Kevin Richardson, Raymond Santana Jr., Kharey Wise, Yusef Salaam, and Antron McCray sued the city for malicious prosecution, racial discrimination, and emotional distress. The city refused to settle the suits for over a decade, but in June 2014 agreed to pay the men $40 million in damages.
source:
Original story found at:
http://www.nytimes.com/2014/06/20/nyregion/5-exonerated-in-central-park-jogger-case-are-to-settle-suit-for-40-million.html
http://jezebel.com/new-york-agrees-to-pay-40-million-in-reparations-to-ce-1593780055