T-Bone Walker was one of the most influential musicians of the early 20th century. He was a man of many talents including blues guitarist, singer, and songwriter. He was also one of the first musicians to prove that a  guitar could go head-to-head with brass, pianos, and woodwinds as a legitimate solo instrument.
Walker was born Aaron Thibeaux Walker in Linden, Texas 1910. He was of African and Cherokee descent. As a young man, he was influenced musically by Blind Lemon Jefferson and had the opportunity to work with the musician. He debut record "Witchita Falls Blue"/"Trinity River Blues", recorded in 1929. Walker's distinctive sound was not developed in 1942. His electric guitar solos were among the first heard on modern blues recordings and set a standard that many musicians still follow today. By the age of 25, Walker was working at the clubs in Los Angeles' Cental Avenue, sometimes as the featured singer and guitarist with Les Hite's orchestra.
Much of Walker's music output was recorded from 1946 to 1948 on Black & White Records, including his most famous song, 1947's "Call it Stormy Monday (But Tuesday is Just as Bad)." B.B. King said 'Stormy Monday" first inspired him to take up the guitar. Walker died in 1975 at the age of 64. Walker was posthumously inducted into the Blues Hall of Fame in 1980, and into the Rock and Roll Hall of Fame in 1987.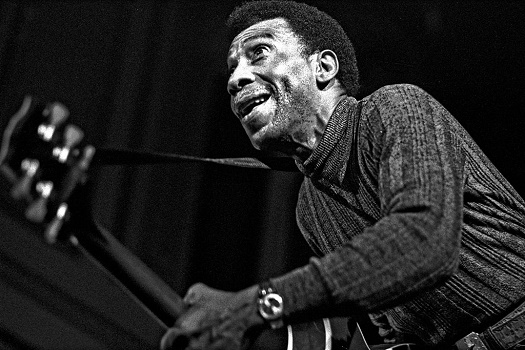 Sources:
http://www.musicianguide.com/biographies/1608001526/t-bone-walker.html
http://www.allmusic.com/artist/t-bone-walker-mn0000003829