Ruben Rivers was a Staff Sergeant in the 761st Tank Battalion. He served with distinction in the European Theater of Operations during World War II.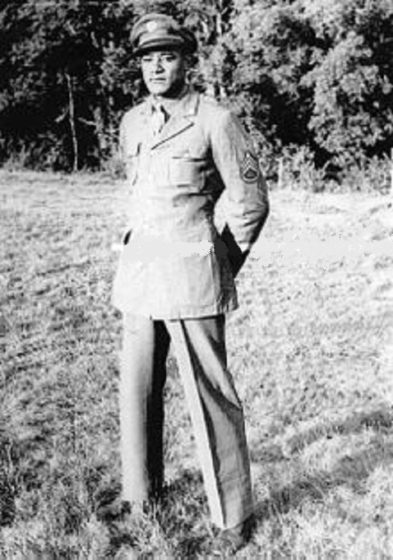 Rivers was born in 1921 in Tecumseh, Oklahoma. He was raised in Hotulka, Oklahoma, where he and his 11 siblings worked on the family farm. After graduating high school, Rivers went to work on the railroad full time.
With the United States' entry into World War II, Rivers and two of his brothers joined the armed forces. However, Ruben would be the only one assigned to a combat unit, ultimately training with the 761st Tank Battalion at Camp Hood in Texas. Nicknamed the "Black Panthers," they were eventually assigned to General George S. Patton's U.S. Third Army. Despite Patton's racism, the battalion was implemented and performed with distinction in a number of important battles, although Patton himself never officially recognized their accomplishments.
Rivers played a critical role in some of the earliest actions performed by the 761st. However, he became not only the battalion's initial hero, but also one of its first casualties.
Shortly after arriving in Europe in the fall of 1944, the 761st was chosen by Patton to be part of his Saar Campaign in the Allied drive to the Siegfried Line. On November 8, 1944, Rivers and the others in the 761st's Able Company were launched with the 104th Infantry Regiment in an attack on German positions near Vic-sur-Seille in northeastern France.
The Germans soon trained their mortar and rifle fire on infantrymen stranded in the roadside ditches, and the situation threatened to produce heavy casualties very quickly. Rivers, positioned in the lead tank, realized that following protocol would fail to alleviate the situation. Instead he took action that resulted in the battalion's first Silver Star.
Rivers dismounted from his tank in the face of the enemy's fire. He attached a cable to the road black and moved it off the road, thus permitting the combat team to proceed. A little more than a week later, Rivers would again distinguish himself leading the platoon, but this time he himself would not be so fortunate.
On November 16, Able Company, with Rivers in the lead tank, would lead another assault. This time, the target consisted of German positions in Gruebling.
On the way into the town, Rivers' tank hit a mine, disabling it and leaving Rivers with a significant injury. Shrapnel had cut his leg from knee to thigh and as deep as the bone. Despite his serious wound, he wanted to continue on. By the next morning, Rivers had developed a serious infection and died from complications.
sources:
http://www.myblackhistory.net/Ruben_Rivers.htm
https://en.wikipedia.org/wiki/Ruben_Rivers