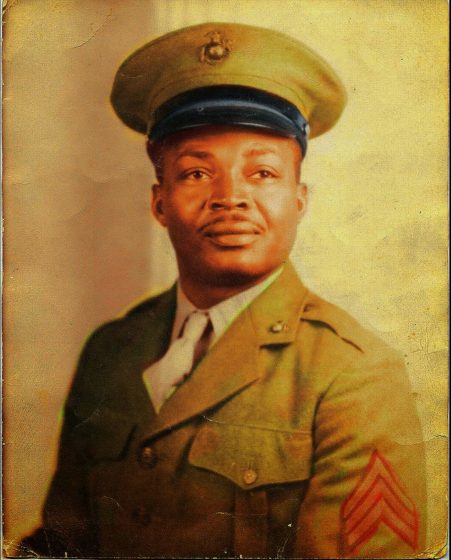 In 1942, the Marine Corps established a camp in Montford Point, North Carolina, as a recruit depot to train African-American Marine recruits. The sum of $750,000 was allotted to construct and enlarge temporary barracks and supporting facilities for the segregated Montford Point Camp adjacent to Camp Lejeune, North Carolina. Recruiting began on June 1, 1942.
Technical Sergeant Alfred Masters became the very first African-American in the United States Marines at his swearing-in on June 1, 1942 — not to be confused with Howard P. Perry of Charlotte, North Carolina, who has the distinction of being the first Black recruit. Perry reported to boot camp in August 26, 1942. However, the first Black Marine recruit to be sworn in was Alfred Masters on June 1, 1942 at 12:01 a.m. in Oklahoma City, Oklahoma. Masters was inducted into the Corps in his home state and then traveled to Montford Point, Camp Lejeune, North Carolina.
Wife of Alfred Masters, Isabel Masters, recalled:
"Alfred and I were on the elevator at the post office in Oklahoma. City with a Marine recruitment officer who asked Alfred if he wanted to be the first Black Marine. Of course, the answer was yes. Alfred was wearing a Langston University sweater, which prompted the recruiter to accost him. On June 1, 1942, Monday morning, one minute after midnight, Alfred was inducted into the armed services as the first Black Marine. In Texas, however, another young man was inducted one minute after 8 a.m. as the first Black Marine. However, Alfred's name is always listed first, being a degree of controversy about it."
Isabell Masters went on to become an educator and five-time U.S. presidential candidate. Their daughter, Cora, became the fourth wife of politician Marion Barry. Masters later married again to Mary Hendricks in 1949 and they had five children.
The Montford Point Marines are hailed as important figures in American history, as they willingly fought to protect a nation that still did not offer them basic civil rights. Alfred Masters died on June 16, 1975.
sources:
http://www.barracks.marines.mil/News/News-Article-Display/Article/498218/the-history-of-the-black-marine/
http://www.montfordpointmarines.com/The%20obituary%20of%20Mr%20Alfred%20Masters/Full%20Document.pdf