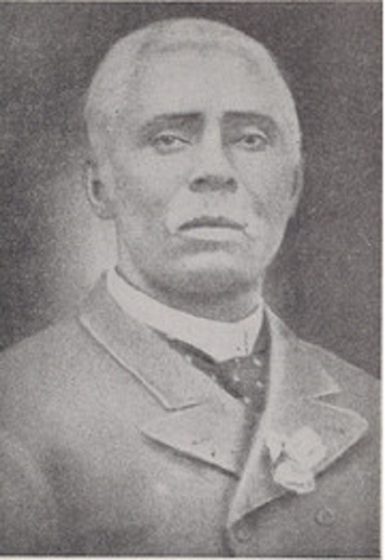 Alfred William Harris was born on August 19, 1853, in Fairfax County and was the son of Henry Harris, a free man, and Jemima Magingo Harris, who was likely enslaved. Little is known about his early life, but during the Civil War the family went to Alexandria, where he may have attended a school operated by the Bureau of Refugees, Freedmen, and Abandoned Lands and possibly one of the city's segregated public schools after 1870.
Harris edited the Summer Tribune in Alexandria, Virginia before joining the editorial staff of the People's Advocate in April 1876. He left to study law with a local African American attorney. In February 1880, the Alexandria corporation court admitted Harris to practice law, and the following year he earned his law degree from Howard University, in Washington, D.C.
Early in the 1870s, Harris became involved in local Republican politics, and he served a one-year term on Alexandria's common council from 1874 to 1875. He was part of a delegation that in May 1875 petitioned President Ulysses S. Grant to reorganize the city's post office, customs house, and internal revenue office. In April 1880, state Republicans selected Harris as a candidate for presidential elector. That July, he attended a public meeting in Richmond at which many of the city's leading African Americans issued an appeal to the city school board to hire black teachers for the black schools and to equalize courses of instruction for white and black students. He moved to Petersburg to practice law soon thereafter and was then perhaps the only African American attorney in the city. In Alexandria, on December 31, 1884.
Harris introduced several local bills while in the House of Delegates, including one that did not pass in 1882 to forbid the county's commonwealth's attorney, sheriff, and treasurer from holding any other offices at the same time. In that same session he introduced a bill that passed to allow a referendum in part of the county to determine whether to exempt that part of the county from the state's 1866 fence law protecting farmers from damage caused by free-ranging livestock.
On February 1, 1889, Harris led a delegation to petition Benjamin Harrison, the president-elect, to place Mahone in the cabinet. Harris did not run for reelection to the House of Delegates in 1889, probably because he was appointed special inspector of customs at Newport News that August, a prominent office for an African American in the state.
In December 1905, Harris was arrested in Petersburg and charged with conspiring with another African American to have the latter steal two bales of cotton and sell one to a commission merchant. Harris adamantly denied the charges, which were based solely on the testimony of his supposed accomplice, and was acquitted by the mayor's court. The commonwealth's attorney failed in his attempt to pursue the case in the Hustings Court. Despite being cleared of the charges, by December 9, Harris had resigned from his post in the internal revenue office.
Having suffered a stroke that left him incapacitated for about two years, Harris died of arteriosclerosis and a cerebral hemorrhage at his Petersburg home on March 24, 1920.
source:
https://www.encyclopediavirginia.org/Harris_Alfred_W_1853-1920#start_entryA