Benjamin E. Mays was a distinguished educator, minister, scholar, and social activist. He is best-known for mentoring Dr. Martin Luther King, Jr., and for serving as the president of Morehouse College in Atlanta, Georgia, from 1940 to 1967.
Mays was born on August 1, 1894, in a small rural town outside Ninety-Six, South Carolina. He was the youngest of eight children born to Hezekiah Mays and Louvenia Carter, both of whom were formerly enslaved tenant farmers.
As a young boy, Mays saw his father constantly threatened by white mob members riding on horseback. After completing his primary education, Mayes attended Bates College in Maine. He completed his B.A. there in 1920, and entered the University of Chicago as a graduate student, earning an M.A. in 1925 and a Ph.D. in the School of Religion in 1935.
While in graduate school, Mays worked as a Pullman Porter. He also worked as a student assistant to Dr. Lacey Kirk Williams, pastor of Olivet Baptist Church in Chicago and President of the National Baptist Convention.
In 1926, he was appointed as executive secretary of the Tampa, Florida Urban League. After serving two years, he became National Student Secretary of the YMCA. Mays' work for the Urban League and the YMCA similarly postponed his doctoral efforts.
In 1933, with coauthor Joseph Nicholson, Mays published a groundbreaking study entitled The Negro's Church, which described the unique origins and character of this central black institution, offering a critique of some of its problematic clerical practices.
Morehouse College hired Mays as president in 1940. His most famous student at Morehouse was Martin Luther King, Jr. During King's years as an undergraduate student at Morehouse in the mid-1940s, the two developed a close relationship that continued until King's death in 1968.
Mays retired in 1967 from Morehouse. He remained active for several years in social and political organizations. He also published two autobiographies, Born to Rebel, and Lord, the People Have Driven Me On. Benjamin E. Mays died in 1984.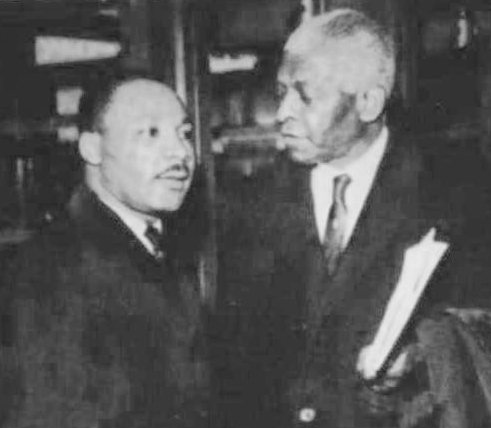 sources:
http://www.georgiaencyclopedia.org/articles/education/benjamin-mays-ca-1894-1984
https://en.wikipedia.org/wiki/Benjamin_Mays