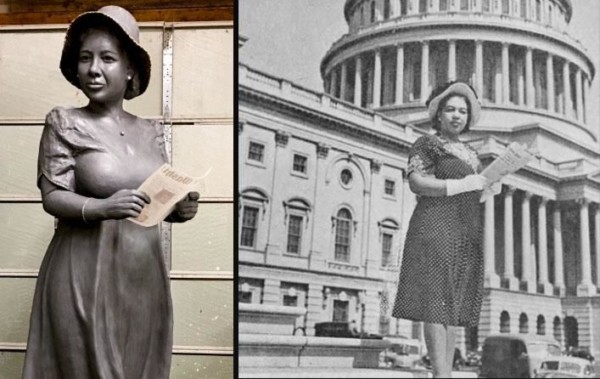 A life-sized bronze statue of Alice Allison Dunnigan, the first African-American woman to receive credentials to cover the White House and Congress, was unveiled at the Newseum on (Sept. 21).
"Alice Dunnigan, the pioneer and trailblazer, blazed the way for us all and not just Black journalist but all journalists. Her story is eerily familiar. I thank God for her and her push for truth. She was shut down from asking questions because she was fierce and persistent in her queries for the culture and the community. I salute you Alice Dunnigan. I stand on your unshaken shoulders," said April Ryan, American Urban Radio Networks White House correspondent. "Thank you for doing the job while under stress and underpaid. You are the embodiment of Freedom of the Press."
Born in 1906, in rural Kentucky to a sharecropper and domestic worker, Dunnigan spent her entire life fighting against racism, sexism and poverty. During her career Dunnigan developed a reputation as a reporter who was unafraid to ask tough questions about race and gender equality, while experiencing discrimination herself, such as being forced to sit with servants while she covered Sen. Robert A. Taft's funeral or being denied entry to white-only establishments while covering President Dwight D. Eisenhower.
The pioneering journalist began her career at the age of 13, writing one sentence news items for her local paper. To support her and her family, Dunnigan worked as a teacher while taking journalism courses, never letting her circumstances deter her dreams. During World War II, she worked as a typist and freelance writer for the American Negro Press (ANP) before accepting a job with the Chicago Defender. In 1947, Dunnigan became full-time with the ANP and the head of their Washington Bureau, where she secured her historic press pass, allowing her to cover the inner workings of U.S. government for the 112 African-American newspapers that subscribed to the ANP.
Dunnigan worked in journalism until 1960 when she was appointed to a position to Lyndon Johnson's presidential campaign. She served on presidential committees and in other government roles until she retired in 1970. Dunnigan died on May 3, 1983 at the age of 77, in Washington, D.C. In 2013, Dunnigan was posthumously inducted into the NABJ Hall of Fame.
The six-foot statue is designed by Kentucky sculptor, Amanda Matthews and is based on a 1947 photo of Dunnigan standing on the steps of the U.S. Capitol with a copy of the Washington Post. The statue will be on display in the D.C. museum until Dec. 16. It then will be installed on the grounds of the West Kentucky African American Heritage Center in Dunnigan's hometown of Russellville, Ky.
Source: First African-American to cover the White House and Congress: Alice Allison Dunnigan statue unveiled at the Newseum | News | insightnews.com