James Alan Bland was an African-American musician and composer who was known as The World's Greatest Minstrel Man. Bland was well-known for writing songs about the American South that were often used in minstrel shows, including his best song, "Carry Me Back to Old Virginny.
Bland was born in Flushing, New York on October 22, 1854 and was one of eight children. His father was one of the first U. S. Black college graduates (Oberlin College, 1845). Beginning with an eight-dollar banjo purchased by his father, Bland was performing professionally by age 14. He attended Howard University but inspired by spirituals by blacks working on campus, he abandoned his academics to pursue a professional career in music.
In the late 1870s, Bland began his professional career as a member of the first successful all-black minstrel company, the Georgia Minstrels. Following the style of traditional all-white minstrel companies, such as the Virginia Minstrels, Bland's company blackened their faces, painted on red lips, and used stereotypical movements and dances in their shows.
Often called "The World's Greatest Minstrel Man", Bland toured the United States, as well as Europe. Beginning in 1881, he spent 20 years in London before returning to the United States. Appearing as "The Prince of Negro Songwriters," he was invited to give command performances for Queen Victoria and the Prince of Wales.
In 1901, Bland returned to Washington, D.C. penniless. By the turn of the century, vaudeville had replaced minstrelsy as the leading genre in entertainment and with the decline of the minstrel show, Bland lost his livelihood. He managed to find work at a law office and earned $250 for his last composition, a musical called The Sporting Girl.
He wrote more than 700 songs, mostly for minstrel shows, among them "Carry Me Back to Old Virginny," chosen in 1940 as the state song of Virginia, "In the Evening by the Moonlight," and "Oh, Dem Golden Slippers." Bland spent the latter years of his life in poverty and obscurity. Bland died in 1911.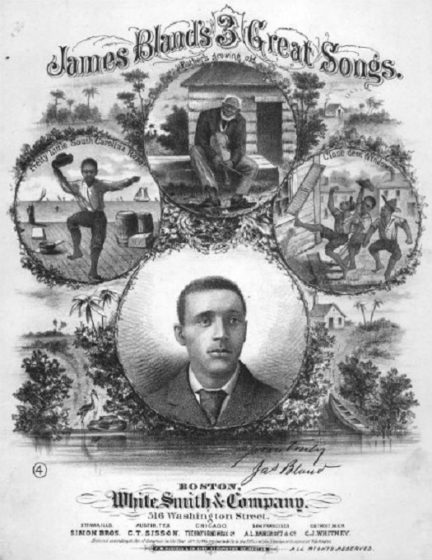 source:
http://www.songwritershalloffame.org/exhibits/C187
http://www.aaregistry.org/historic_events/view/composer-james-bland-prolific-virginia-song-writer