Amaza Lee Meredith  was an African American architect, educator and artist. Meredith was unable to enter the profession as an architect because of "both her race and her sex" and worked primarily as an art teacher Virginia State College, where she founded the Art Department.
Meredith was born in Lynchburg, Virginia.  Her father, Samuel Peter Meredith, was white, and was also a master stair builder. Her mother, Emma Kennedy was black. Her parents were not allowed to marry under anti-miscegenation laws  in Virginia. Eventually, her parents traveled to Washington, D.C. to get married. Not long after their marriage, her father began to lose business, "apparently as a result of the marriage" and committed suicide in 1915.
Meredith started teaching in a one-room schoolhouse in Indian Rock after she completed high school.  Later, she went back to Lynchburg and taught elementary school, before returning to college. In 1922, she attended Virginia State Normal and Industrial Institute, and afterwards, taught at Dunbar High School for six years. In 1926, she moved to Brooklyn, New York, where she attended the Teacher's College of Columbia University.
1958, she retired from teaching. She continued to design buildings and paint throughout the 1960s. In the 1970s, Meredith designed logos to be used for a proposed name change for the National Association for the Advancement of Colored People (NAACP). Meredith died in 1984 and is buried alongside Edna Meade Colson at Eastview Cemetery, Petersburg, Virginia.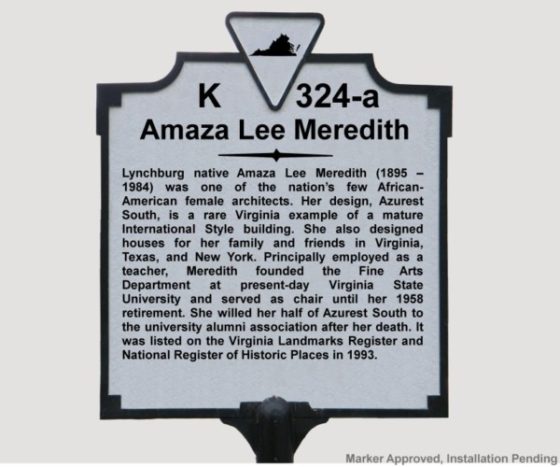 source:
http://www.livingplaces.com/people/amaza-lee-meredith.html