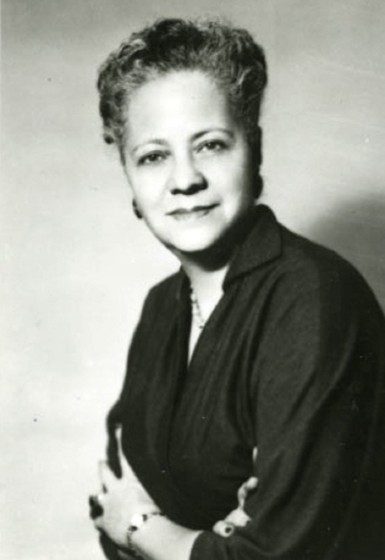 Anna Arnold Hedgeman was the first African-American woman to serve on the cabinet of a New York mayor when she worked during the term of New York City Mayor Robert Wagner. Hedgeman is also known for her work helping to organize the March on Washington in 1963.
Hedgeman was born on July 5, 1899, in Marshalltown, Iowa to William James Arnold II and Marie Ellen Arnold. As a child, her family moved to Anoka, Minnesota where the Arnolds were the only black family in the community. Her father instilled the importance of education and Hedgeman learned how to read at home. She was not allowed to attend school until she was seven years old.
After graduating from high school in 1918, Hedgeman was accepted into Hamline University, a Methodist college in St. Paul, Minnesota. She graduated four years later with a Bachelor of Arts degree in English, the first African-American to earn a degree at that institution.
She was inspired to become an educator after hearing Dr. W.E.B. Dubois give a speech. Hedgeman accepted a teaching position at Rust College in Holly Springs, Mississippi, the oldest of the Historically Black Colleges and Universities. She taught English and history there for two years. While in Mississippi she experienced racial segregation and discrimination for the first time, leading to her later involvement in the civil rights movement.
In 1924, Hedgeman began working with the Young Women's Christian Association (YWCA).  She later served as executive director of YWCA facilities in Springfield (Ohio), Jersey City (New Jersey), Harlem, Philadelphia (Pennsylvania), and Brooklyn.
She was also appointed to be the executive director of the National Committee for a Permanent Fair Employment Practices Commission. She also served briefly as Assistant Dean of Women at Howard University, as public relations consultant for Fuller Products Company, and as associate editor and columnist for the New York Age. In 1948 she worked on the Harry Truman Presidential campaign.
Hedgeman also wrote two books about her life's work: The Trumpet Sounds (1964), and The Gift of Chaos (1977). Both Howard University and Hamline University have awarded Hedgeman honorary doctor degrees. Anna Arnold Hedgeman died in Harlem on January 17, 1990.
Sources:
http://www.blackpast.org/aah/hedgeman-anna-arnold-1899-1990
http://www.anb.org/articles/15/15-01364.html