Thelma Johnson Streat was an important WPA artist who earned international fame for her visual and performance art. Johnson was born in Yakima, Washington on August 29, 1912. She exhibited a natural ability in the arts at an early age, and by seven, she was painting.
After graduating from Washington High School in Portland in 1932, she set out to pursue a career in art. On January 27, 1933, singer Roland Hayes purchased four of her paintings, which also included a portrait of Hayes. She married Romaine Virgil Streat in 1935 and used "Streat" as her professional name even after they divorced.
Streat studied briefly at the Museum Art School in 1934 and at the University of Oregon. However, it was not until she left Oregon and moved to California that her artistic talent received recognition.
In 1941, her paintings were exhibited at the DeYoung Memorial Museum in San Francisco. She painted her most well-known piece, "Rabbit Man," which was later purchased by the Museum of Modern Art in New York in 1942 and is a part of the museum's permanent collection. Her 1943 painting, "Death of a Black Sailor," drew death threats from the Ku Klux Klan, but that did not stop Streat from continuing her work.
Her art, which includes oil and watercolor paintings, charcoal sketches, ink drawings, mixed media murals, and textile design, has been displayed in prominent museums throughout the world, such as the American Contemporary Art Gallery, San Francisco Museum of Modern Art, City of Paris Gallery, and the Art Institute of Chicago.
She moved to Chicago and began teaching art classes to young children for several years, but later decided to travel to the Queen Charlotte Island of British Columbia, Canada, to study the art, dance and culture of the Haidah tribe. Streat was also a talented singer and modern dancer. In addition to giving concert performances, she sometimes presented dance accompaniments to her completed murals.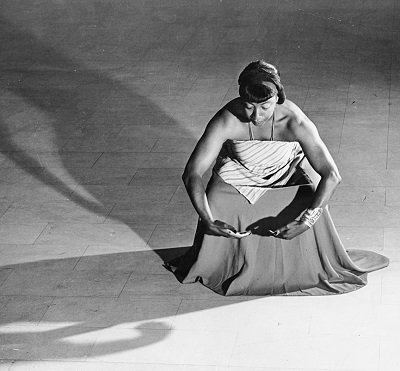 In December of 1948, Streat married writer/manager John Edgar Kline in Seattle, Washington. The couple settled in Hawaii and founded "Children's City" in Honolulu, a center designed to help children learn about art and appreciate cultural diversity. In 1959, she began studying anthropology at UCLA, but unfortunately died suddenly that same year. She was honored by a posthumous one-person show at the Portland Art Museum in 2003.
source:
http://www.oregonencyclopedia.org/articles/streat_thelma_johnson/#.VpkAL4-cGM8