BY WALTER OPINDE
On this date, 2nd June, 1875, James Healy Augustine was consecrated as an American Roman Catholic priest, and the second bishop of Portland, Maine. He thereby became the first known Bishop in the U.S. to be from the African descent.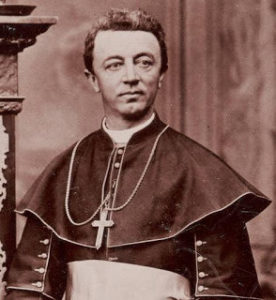 Born on 6th April, 1830, in Georgia, to a mixed-race slave mother and Irish immigrant father, Healy identified with two races and was undisputedly accepted as white Irish American. When James was ordained in 1854, his mixed-race ancestry remained unclear and unknown to many people outside his family and his Catholic Church mentors.
Contrary to the majority historical sources, some other historical records portray and credit Augustus Tolton, a former slave who was publicly known to be black when ordained in 1886, as the first African-American Roman Catholic priest in the United States. The exact truth remains unclear though.
James was one of the ten mixed-race siblings of the Roman Catholic Healy's family of Georgia, who survived to adulthood thereby achieving several "black firsts" in the U.S. history. He is attributed to the extensive expansion of the Roman Catholic Church in Maine, during a time of the great Irish immigrations. Augustine also served the Abenaki people and several other parishioners of the Canadian-French descent. He spoke both French and English languages.
Regardless of his unclear background of mixed-race, James Augustine, alongside his siblings were still regarded as illegitimate and slaves due to birth, under the Georgian law. The law barred them from attending any school within the state. As such, in order to receive his basic and further education, Augustine's parents sent him, alongside all other siblings, in the 1840s, to Quaker schools in the North. By 1844, James was sent to grammar, secondary, and collegiate schools at the New Holy Cross College in Worcester, Massachusetts. He graduated as valedictorian in 1849, among the first graduating class. Two years later, James had earned his master's degree; and it was in this college where James decided to join the priesthood.
Augustine enrolled in the Sulpician Seminary in Paris, France, and by 1854, he was ordained at Notre Dame Cathedral in Paris. Therefore, he became the first African-American to be ordained a Roman Catholic priesthood. When he returned to the United States, Augustine started his ministry as an assistant priest with the Boston diocese. Here, he served for the next two decades. Subsequently, by 1875, Pope Pius IX named him as the Bishop of Portland, Maine. Under his administration, in the next two and a half decades, more than sixty churches, eighteen schools, and several welfares and convent institutions were founded. During this era, under James' leadership, the Roman Catholic Church membership doubled up to more than 100,000 people. Mr. Healy would also jointly manage the dioceses of New Hampshire alongside Maine.
Bishop Healy assumed the leadership role in the American Roman Catholic hierarchy, thereby proposing three primary pieces of church legislation, which went through the Third Council of Baltimore. Bishop Augustine also served as a member of the commission that established the Catholic University of America in Washington, D.C. He was also a member of the Council's commission for the African-American and Indian missions. Apart from his church responsibilities as a Bishop, Mr. Healy James could also fix time to lobby and touch on the social issues, such as the child labor laws and Indian rights.
Bishop James Augustine Healy died of heart-attack while in Portland, Maine, on 5th April, 1900. More than seven bishops, two hundred priests, judges, and state legislators, alongside several other community leaders, were in the attendance during his funeral. In adherence to his wishes, while he was still alive, Bishop Healy was buried in a simple graveyard instead of the Portland Cathedral's vault.
Read more of the story via: http://www.catholicherald.com/News/James_Healy__America_s_First_Black_Bishop/
Sources
Foley, Albert S. Bishop Healy: Beloved Outcaste: The Story of a Great Priest Whose Life has become a Legend (New York: Strauss and Young, 1954, available online; reprint Arno Press, 1969).
Foley, Albert S. God's Men of Color: The Colored Catholic Priests of the United States, 1854-1954 (New York: Strauss and Young, 1955), available at Google books.