Dr. John Henrik Clarke was a Pan-Africanist writer, historian, professor, and a pioneer in the development of Africana studies and professional institutions in academia.
Clarke was born John Henry Clark on January 1, 1915, in Union Springs, Alabama. He was the youngest child of sharecroppers John and Willie Ella Clark. His family moved to the closest mill town, which was Columbus, Georgia, in hopes of earning enough money to purchase land rather than sharecrop.
Clarke's mother wanted him to become a farmer; however, he had other dreams. In 1933, he left Georgia and went to Harlem, New York, as a part of the Great Migration of rural blacks out of the South to northern cities. He then pursued scholarship and activism. He renamed himself as John Henrik and added an "e" to his surname, spelling it as "Clarke."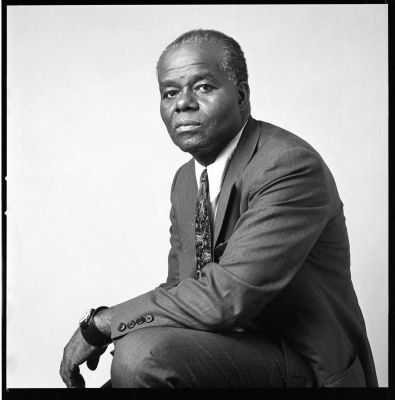 Clarke studied intermittently at New York University, Columbia University, Hunter College, the New School of Social Research, and the League for Professional Writers. He joined study circles such as the Harlem History Club and the Harlem Writers' Workshop. From 1941 to 1945, Clarke served as a non-commissioned officer in the United States Army Air Forces and obtained the rank of master sergeant.
From 1969 to 1986, Clarke was a professor of Black and Puerto Rican Studies at Hunter College of the City University of New York, where he served as founding chairman of the department. He also was the Carter G. Woodson Distinguished Visiting Professor of African History at Cornell University's Africana Studies and Research Center. In 1968, he founded the African Heritage Studies Association and the Black Caucus of the African Studies Association.
Becoming prominent during the Black Power movement in the 1960s, which began to advocate a kind of black nationalism, Clarke advocated for studies of the African-American experience and the place of Africans in world history. He challenged the views of academic historians and helped shift the way African history was studied and taught.
Dr. John Clarke was "a scholar devoted to redressing what he saw as a systematic and racist suppression and distortion of African history by traditional scholars." Besides teaching at Hunter College and Cornell University, Clarke founded professional associations to support the study of black culture. Along with Leonard Jeffries, he was a founder and first president of the African Heritage Studies Association, which supported scholars in areas of history, culture, literature and the arts.
source:
http://africana.library.cornell.edu/africana/clarke/index.html