Today, Birchtown in Shelburne County, Nova Scotia is a historical community with the Black Loyalist Heritage Centre being its most significant modern site. Centuries ago, Birchtown was the largest free Black settlement in North America.
ESTABLISHMENT AND POPULATION DECLINE
Following the movement Black Loyalists to Nova Scotia after the American Revolution, Stephen Blucke settled the area in 1783. The population was mostly made up of the Black Pioneers unit and the bulk of the total population came out of the Southern colonies. There was a population bump the following summer as Blacks fled Shelburne during a riot.
Being the largest settlement doesn't necessarily mean it was prosperous. In most cases, it simply means it is in a reachable location. At the time Nova Scotia wasn't known for the most inviting weather and the land Birchtown sat on wasn't fertile.
Nova Scotia had a few marks against it for the Black Loyalists, as a result people were seeking a better opportunity. When Thomas Peters recruited for Sierra Leone roughly 600 left the settlement.
Birchtown was around into the late 20th century but remained a small rural farming and fishing town. Opportunities in larger towns and a lack of growth at home resulted in a population decline over the years. Around 200 people reside in Birchtown today.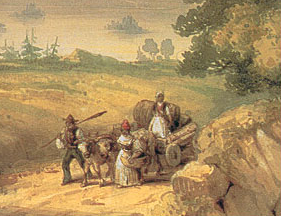 SOURCE: https://ansa.novascotia.ca/birchtow