Emory Douglas is best known for his work as a Minister of Culture for the Black Panther Party. He served in the party from 1967 until its disband in the 1980. His graphic art was featured in most issues of the newspaper The Black Panther (which had a peak circulation of 139,000 per week in 1970). As the art director, designer, and main illustrator for The Black Panther newspaper, Douglas created images that became icons, representing black American struggles during the 1960s and 1970s.
Douglas was born in Grand Rapids, Michigan on May 24, 1943, but he grew up in the San Francisco Bay Area. As a teenager, Douglas was incarcerated at the Youth Training School in Ontario, California; during his time there he worked in the prison's printing shop. He later studied commercial art, taking graphic design classes, at San Francisco City College. He was later drawn to political activism.
He became Minister of Culture for the Black Panther Party in 1967. In 2007, The San Francisco Chronicle reporter Jessica Werner Zack reported that Douglas "branded the militant-chic Panther image decades before the concept became commonplace. Douglas often used the newspaper's popularity to incite the disenfranchised to action, portraying the poor with genuine empathy, not as victims but as outraged, unapologetic and ready for a fight.
Douglas worked at the black community-oriented San Francisco Sun Reporter  newspaper for over 30 years after The Black Panther newspaper was no longer published. However, he continued to create activist artwork. Emory Douglas has often been described as a prolific and persistent graphic agitator in the American Black Power movements.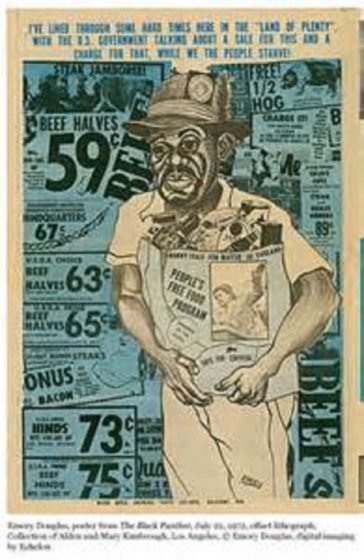 sources: