The story of the Black Dutchmen is an almost forgotten part of African, Dutch and Indonesian black History. There were over 3,000 young West African men who were enlisted between 1831 and 1872 in the Dutch colonial army to help end uprisings in what is now Indonesia. The Black Dutchmen are the descendants of these West African men.
The men were given the nationality of the Dutch as well as names, and several privileges of their colonial masters. The men settled in Central Java and married to women of the native country. On Java, the African soldiers and their descendants became known as 'Belanda Hitam' – Black Dutchmen.
The African soldiers were counted as part of the European contingent of the army and were to be treated as Europeans. Their conditions of service were mostly the same as those of Europeans, and considerably better than those of the indigenous soldiers. In due course, the Indo-Africans became part of Indo-European society: they spoke Dutch as their mother tongue, their children attended Dutch schools and they held Dutch nationality.
The largest Indo-African community lived in the Garrison town of Purworedjo in central Java, wherein 1859 King William III allocated them a plot of land. Other garrison towns such as Semarang and Salatiga were also home to a number of Indo-African families. Indo-Africans living outside these main centers tended to assimilate into Indo-European society, often becoming oblivious of their African roots.
Male children born to the men usually continued the tradition and served in the colonial army until the independence of Indonesia. After Indonesia gained independence, the Belanda Hitam, or Black Dutchmen, as they were called, then sailed off to the Netherlands, the homeland they had never seen.
Today every other year or so, the Belanda Hitam, or Black Dutchmen as they are now known in the Netherlands, gather to celebrate their unique ancestry.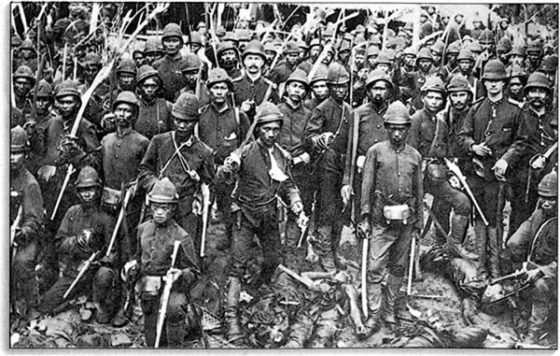 source:
http://elwininternational.com/hitam.html
https://openaccess.leidenuniv.nl/bitstream/handle/1887/4736/ASC-1241494-026.pdf?sequence=1