Elizabeth "Libba" Cotten was an American folk and blues musician. She made her professional debut in 1959 at the age of 67 and was discovered by the musically renowned Seeger family during the 1950s. Cotten was soon recognized for her unique self-taught guitar and banjo picking style, and her songs "Freight Train," "Oh, Babe, It Ain't No Lie," and "Shake Sugaree."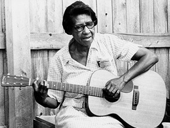 Cotten was born around Chapel Hill, North Carolina, to a musically inclined family in the mid-1890s. She started singing and performing pre-blues, finger-picked music at a young age. Secretly borrowing her brother's banjo, left-handed Cotten taught herself to play the right-handed instrument by turning it upside down and playing the bass with her fingers and the treble with her thumb. This created a unique picking style that was later referred to as "Cotten Picking."
By the age of 11, Cotten purchased her first guitar and continued playing it upside down. Her musical talent was first discovered when she was working at a department store in Washington, D.C., as she found and returned a very young and lost Peggy Seeger to her mother, Ruth Crawford Seeger. A month later, Cotten began working in the household of the famous folk-singing Seeger family.
The Seeger home was the perfect opportunity for Cotten; her talent was discovered by pure accident.  Ruth Crawford Seeger was a noted composer and music teacher, while her husband, Charles, pioneered the field of ethnomusicology. A few years passed before Peggy Seeger discovered Cotten playing the family's gut-stringed guitar. Cotten apologized for playing the instrument without asking, but Peggy was astonished by what she heard. Eventually, the Seegers came to know Cotten's instrumental virtuosity and the wealth of her repertoire.
As her music became a staple of the folk revival of the 1960s, Elizabeth Cotten began to tour throughout North America. Among her performances were the Newport Folk Festival, the Philadelphia Folk Festival, the University of Chicago Folk Festival, and the Smithsonian Festival.
Cotten continued to tour and perform right up to the end of her life. Her last concert was put together by folk legend Odetta in New York City in the spring of 1987, shortly before her death.
sources:
http://www.geocities.co.jp/Hollywood/1061/cotten_bio.html
http://www.folkways.si.edu/elizabeth-cotten-master-american-folk/music/article/smithsonian