Bobby Hutton was the first person to join the newly formed Black Panther Party for Self Defense. He was only 16 years old at the time.
Hutton was one of three children born in Jefferson County, Arkansas, to John D. Hutton and Dolly Mae Mitchner-Hutton. When he was three years old, his family moved to Oakland, California, after they were visited by nightriders intimidating and threatening blacks in the area.
By the time Hutton was sixteen, he believed in the ideals that Bobby Seale and Huey P. Newton had outlined in the Ten-Point Program; he was dedicated to serving and helping his community. In 1967, Hutton led 26 Black Panthers in a march on the State Capitol in Sacramento to protest the new gun bill and the arrests that stemmed from it.
On April 6, 1968, Oakland police ambushed a carload of Black Panther Party members on a side road. A shootout occurred, resulting in the death of BPP member Bobby Hutton and the arrest of the other members.
Young Hutton was shot more than 12 times after he had already surrendered and stripped down to his underwear to prove he was not armed. Hutton was the first Panther to die and became a martyr for the cause of black power.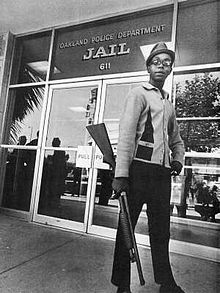 source:
http://www.pbs.org/hueypnewton/people/people_hutton.html