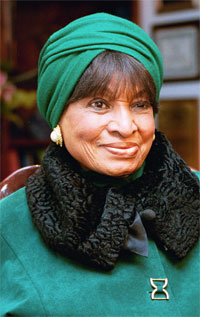 C. Delores Tucker was a renowned civil rights activist and politician who tirelessly served on behalf of historically-oppressed minorities and women. She was an active participant in the Civil Rights Movement as a part of the Selma-to-Montgomery March in 1965, and a delegate to the historic White House Conference on Civil Rights.
Tucker was born Cynthia Delores Nottage on October 4, 1927, in Philadelphia, Pennsylvania, to a minister and "Christian feminist mother." She was the tenth child of 11 children. Tucker attended Temple University and the University of Pennsylvania's Wharton School. She was also a member of Alpha Kappa Alpha Sorority, Inc.
Tucker influenced her home state to appoint more female judges and more women and African Americans to boards and commissions than ever before. She also led the effort to make Pennsylvania one of the first states to pass the Equal Rights Amendment. As Chief of Elections of Pennsylvania, she led voter registration by mail and reduced the voting age from 21 to 18 years of age.
She chaired the Black Caucus of the Democratic National Committee for over 10 years and spoke at five Democratic conventions. As a member of the Democratic National Committee, Tucker was one of the original organizers of the Black Caucus and Women's Caucus.
In 1971, Tucker became the first African-American female Secretary of State in the U.S., serving Pennsylvania until 1977. She later established the Martin Luther King, Jr. Association for Non-Violent Change to develop programs and activities based on the teachings and principles of the late civil rights leader.
Throughout her career, she received and was honored with more than 400 awards, including the NAACP Thurgood Marshall Award, the Martin Luther King, Jr. Distinguished Service Award, and the Philadelphia Urban League Whitney Young Award. She also received two honorary Doctor of Laws degrees from Morris College in Alabama and Villa Maria College in Pennsylvania. Tucker died on October 12, 2005  in Norristown, Pennsylvania, at the age of 78.
sources:
http://explorepahistory.com/displayimage.php?imgId=1-2-1C7F
http://aaregistry.org/historic_events/view/c-delores-tucker-born