Carl Maxie Brashear, a United States Navy sailor, was the first African American to become a U.S. Navy Master Diver. His life story was depicted in the film Men of Honor (2000), starring Cuba Gooding, Jr.
Brashear was born on January 19, 1931, in Tonieville, Kentucky. He was the sixth of eight children born to sharecroppers, McDonald and Gonzella Brashear. As a child, Brashear's formal education did not extend past middle school.
He enlisted in the U.S. Navy in February 1948, shortly after the Navy had been desegregated by President Harry S. Truman. As a student in the U.S Navy Diving and Salvage School, he dealt with racism and frequent death threats. He graduated from the school in 1954 and became the first African-American U.S. Navy Diver.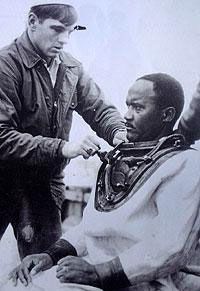 In January 1966, during the Palomares incident in Spain, Brashear was serving on the USS Hoist when he was called to assist in the recovery of a missing Air Force bomb. Brasher was awarded the Navy and Marine Corps Medal for his role in the recovery of the bomb, which is the highest Navy award for heroism in a non-combat scenario.
During the recovery in March 1966, a cable on the ship failed and caused a steel pipe to tumble to the deck. Brashear pushed another sailor out of danger, but was hit in the leg and suffered massive bleeding. In order to shorten his recuperation period, he decided to amputate his leg.
Brashear has been quoted as saying: "Of all the obstacles and adversity that I met prior to that, that was my biggest challenge—convincing the Navy that I could in fact stay in it and perform my duties and perform maneuvers that you have to do in diving school when you've got two legs."
After his accident, and a long struggle in physical therapy, Brashear became the first amputee to be certified as a U.S. Navy diver. In 1970, he became the first African-American U.S. Navy Master Diver and achieved the rating of Master Chief Boatswain's Mate.
Brashear retired from the Navy in 1979 after more than three decades of service as a Master Chief Petty Officer and Master Diver. Although his formal education ended at the 7th grade, he decided to pursue a non-military career and continue his education. From 1980 to 1983, he earned 36 semester hours at two community colleges.
In 1993, Brashear retired from his civilian career working for the government, primarily as an energy conservation and environmental protection specialist. In 2006, he died of heart and respiratory failure at the age of 75.
source:
https://www.aacc.nche.edu/About/Awards/oaa/Pages/cmbrashear.aspx
http://carlbrashear.org/index.html