Carlota, a slave woman, took up the machete in 1843 to lead a slave uprising at the Triumvirato sugar mill in Matanzas Province and was later brutally murdered.  She was one of the 3 leaders of the rebellion. Her name was later given to Cuba's 1980's operation Black Carlota in Southern Africa, which culminated in the battle of Cuito Cuanavale and the defeat of the South African army in pitch battle.
Matanzas was the scene of many confrontations between enslaved Africans and the slave system regime in Cuba during 1843 and 1844. The uprising at the sugar – estate Triumvirato under the leadership of the heroic Carlota had a great impact both inside and outside of the island. Those struggles began in July and August of the year 1843. By means of 'talking drums' the rebels were called for battle. When hearing the sounds of the drums, the slave-owners most likely thought that the Africans were paying tribute to their ancestors in sessions held in and around their barracoons. A man by the name of Evaristo and a woman called Fermina of the sugar estate Arcana, were in charge of all preparations. Their task was to encourage the enslaved people to rise up and put an end to the hated system of human exploitation.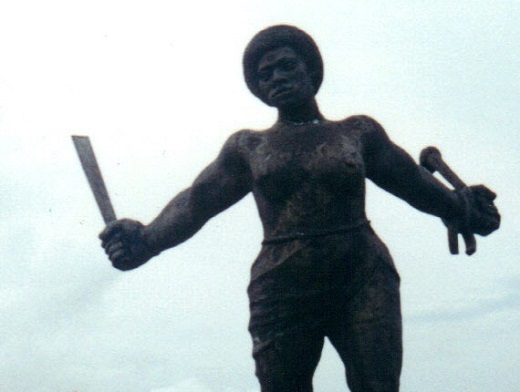 The white slave owners thought that the noise was just a slave ceremony calling their ancestors. But in fact at 8:00 p.m. on the night of Sunday, November 5, Eduardo, the interpreter of the kettledrum voice advised everybody, and Carlota, Narciso to have their work machetes sharpened.  At that hour the objective was not the cane plantations, but the brutal plantation manager, his overseers and lackeys. Those were the first people who felt the blades of the machetes. Carlota and her captains, according to their secret plan, had gone from Triunvirato to Acana to free the slaves. The group worked to liberate the slaves from the administrations of Santa Ana, Guanábana and Sabanilla del Encomendador, belonging to the Concepción, San Lorenzo, San Miguel, San Rafael sugar mills, and the neighboring coffee plantations and dairy farms.
The governor and powerful forces had already heard about what Carlota had done, and they were in hot pursuit of her. She was later captured and taken prisoner, tied alive to horses pulling in opposite directions until she was torn apart.
source:
http://www.africanamerica.org/topic/carlota-lukumi-yoruba-woman-fighter-for-liberation-massacred-in-matanzas-cuba-in-1844