Clarence Matthew Baker was an American comic book artist who drew the costumed crime fighter Phantom Lady, among many other characters. Active in the 1940s and 1950s Golden Age of comic books, he is the first known African-American artist to find success in the comic-book industry.
Baker attended the Cooper Union School of Engineering, Art, and Design in New York. By 1944, he was employed in his first professional artist job with the S.M. Iger Studio. He first published his work in Jumbo Comics #69.
The Phantom Lady is Baker's most recognized work. Baker penciled what is arguably the first graphic novel, St. John Publications' digest-sized "picture novel" It Rhymes with Lust (1950). His specialty was drawing "good girl art", a comics sub-genre for which his available work is in high demand with collectors. He worked for various publishers including Fox, St. John, Fiction House, and Quality Comics.
His other notable work includes military-humor title Canteen Kate, Tales of The Mysterious Traveler; the feature "Sky Girl" in Fiction House's Jumbo Comics, and the jungle adventures of "Tiger Girl."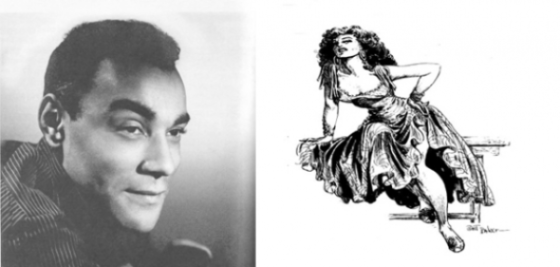 source: