The Cleveland Tate Stars were a baseball team in the Negro National League. In their only season, they finished last of eight clubs with a 17-29 record in league play. George Tate served as the owner, and namesake, of the club. Candy Jim Taylor played for the Tate Stars.
The Tate Stars formed in 1918, two years before Rube Foster started the first organized black baseball league, the Negro National League. The Tate Stars became a league affiliate in 1921 and a full member in 1922 (after they paid a $1,000 league entry fee). Once they joined the league, the Tate Stars started selling stock to local investors at $10 per share, and later $15 per share. They also sold season tickets before games began for $11 a seat; friends and family could also enter for free with the ticket holder. The Tate Stars hoped to sell $3000 to $4,000 worth of tickets prior to the season, but it was not clear if they ever reached this goal.
The team did report 6,500 fans in attendance for at least one late April game, a rather large figure for a regular season Negro League game in 1922.
By the end of the 1922 season the finances weren't the Tate Stars' only problem; the team was near the bottom of the standings in the eight-team league. They finished tied for seventh with a record of 17 wins and 29 losses. After the season their financial affairs were in shambles and many in the community believed the Tate Stars were in debt by almost $20,000.
Even though the Tate Stars initially planned to return for the 1924 season, the team folded for good at the end of 1923. The remnants of the team were sold to new owners, and the name was changed to the Cleveland Browns.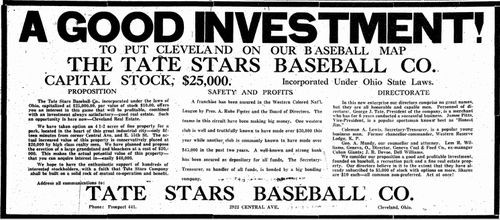 source:
http://www.ohiohistorycentral.org/w/Cleveland_Tate_Stars