By the early 1900s, the State of Alabama was the sixth largest coal producer in the United States. The coal production had grown from around 67,000 to 8.4 million tons between 1875 and the 1900s. The big reason for the growth was because of the practice of convict leasing in the state. Over 25 percent of the miners were convicts, and most all of the miners learned the trade working as convicts.
"State officials quickly learned how to use the convict leasing system to disproportionately exploit black people. In an average year, 97 percent of Alabama's county convicts were black. When coal companies' labor needs increased, local police swept small-town streets for vagrants, gamblers, drunks, and thieves, targeting hundreds of black Alabamians for arrest." These individuals usually received anywhere from sixty to ninety days of hard labor, and they had to pay court costs. However, many of the convicts were held well-over their release dates.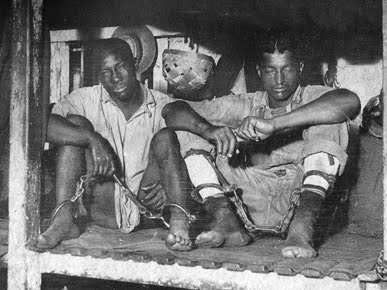 The conditions in the mines were horrible. Convicts were chained together and worked in ankle-deep water. The hours they worked could range anywhere from 12 to 16 hour days with no breaks in between. It was recorded, a black former convict recalling the experience as deplorable, prisoners slept with their chains, covered with vermin and filth, and the cans which was used for slop overflowed and ran on the prisoner's beds.
But, the mines' owners and operators did not care about their safety. In 1911, the Banner Mine near Birmingham exploded, trapping and killing 125 convicts who were leased to the Pratt Consolidated Coal Company. However, when the local newspapers reported the death of the miners, they listed their crimes beside their names: gambling, bootlegging, vagrancy, and many other small incidents.  After the accident, and many compromises and much debate, the legislature passed the mine safety bill on the last day of the legislative session, and signed into law on April 18, 1911. The law called for many more mine inspectors and higher salaries, and set standards for almost every piece of equipment and procedure used in mining. However the convict lease system continued until its abolishment in 1928.
source:
http://www.encyclopediaofalabama.org/article/h-1135