Clifford Chester Sims, born on June 18, 1942, was a solider in the United States Army. Sims received America's highest military decoration, the Medal of Honor, for his actions in the Vietnam War.
Sims became an orphan at a young age; he lived in an abandoned school bus with relatives and was later adopted at the age of 13. He attended George Washington High School, where he met his wife Mary before joining the army. He later moved to Fort Bragg along with wife.
He was later sent to Fort Campbell, Kentucky, to join Company D, 2nd Battalion (Airborne), 501st Parachute Infantry Regiment, 101st Airborne Division. By 1968, he was serving as a Staff Sergeant. On February 21, 1968, he was engaged with enemy forces near Huế in the Republic of Vietnam. Sims's squad was assaulting a heavily fortified position hidden within a densely wooded area when the soldiers were face-to-face with strong defensive fires.
Sims led his squad in a furious attack against an enemy force that had pinned down the 1st Platoon and threatened to completely overrun it. During the battle, he threw himself onto a triggered booby-trap device. He was killed in the subsequent explosion, but was successful in protecting his fellow squad members from utter demise.
Staff Sergeant Sims was 25 at the time of his death. He made the ultimate sacrifice, and was posthumously awarded the Medal of Honor.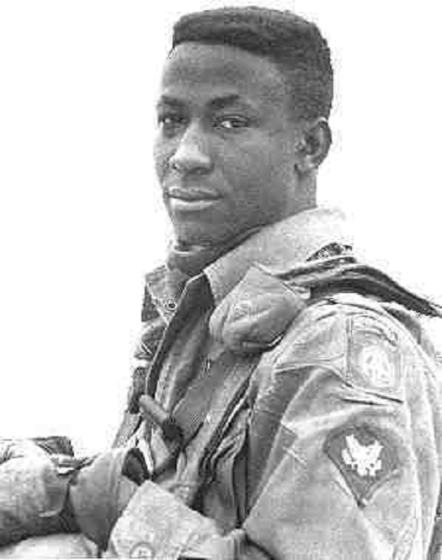 source:
http://www.myblackhistory.net/Clifford_Sims.htm
http://homeofheroes.com/gravesites/states/pages_pz/sims_clifford.html