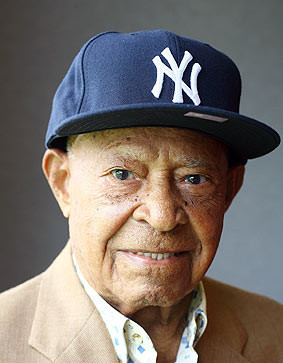 Millito Navarro was a baseball player in the Negro Leagues playing for the Cuban Stars. He was the last surviving Negro League player dying in 2011.
BEFORE BASEBALL
Navarro was born in Patillas, Puerto Rico but grew up in Ponce, moving there after his father passed. He performed a number of menial jobs as a child eventually doing his father's job of shoe shining. Navarro would also deliver food for his mother.
A fan of baseball, it was a chance event that saw young Millito Navarro enter the sport. While still in high school, he wanted to see a game but didn't have a ticket. He jumped the fence to the arena and landed in the outfield. One of the Castillo players saw this and offered Navarro a chance to play with them.
While he had a grant to attend the University of Puerto Rico, he instead opted to try for pro baseball in America.
PRO CAREER AND RETIREMENT
Since baseball was segregated at the time, Millito Navarro joined the Cuban Stars (eventually the Cuban Giants) of the Negro Leagues. The Cuban Stars was made up mostly of Black and Black Latino players. As expected he runs into racism when touring the American south. After two years in the Negro Leagues, Navarro played baseball in the Caribbean and South America before co-founding Leones de Ponce in Ponce, Puerto Rico.
He was involved in the Leones de Ponce for two decades as a player, coach, and in the front office. After retiring, he managed the Leones' home stadium Francisco Montaner Stadium for a decade. In the early 1990s, he was inducted into the Puerto Rico Baseball Hall of Fame. Twelve years later he was inducted into the Puerto Rican Sports Hall of Fame and two years later Navarro was added to the Hispanic Heritage Baseball Museum.
Millito Navarro passed away on April 30, 2011, at the age of 105 making him the last surviving Negro League player.
SOURCE
–http://coe.k-state.edu/annex/nlbemuseum/history/players/navarro.html
–http://www.espn.com/mlb/news/story?id=6457594