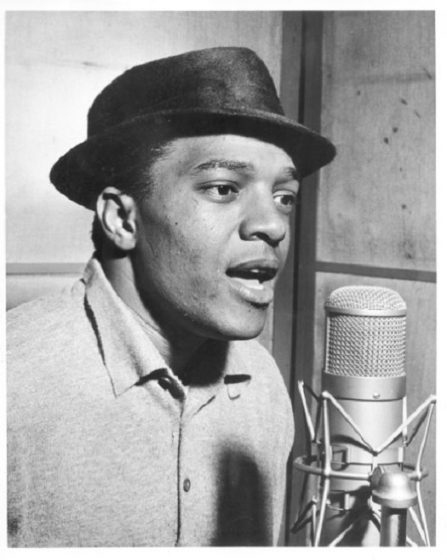 Clyde Lensley McPhatter was a key figure in the shaping of doo-wop and R&B. His high-pitched tenor voice was steeped in the gospel music he sang during his youth. He was best known for his solo hit "A Lover's Question."
McPhatter was born in the tobacco town community of Hayti, in Durham, North Carolina, on November 15, 1932, and raised in a religious Baptist family; the son of Rev. George McPhatter and wife Beulah. At the young age of five, he began singing in his father's gospel choir with his 6 siblings. When he was ten, he became the soprano-voiced soloist for the choir. The family later moved to Teaneck, New Jersey, where he attended Chelsior high school. After high school his family moved again. The family moved to New York City, where McPhatter formed the gospel group The Mount Lebanon Singers.
In 1950, after winning the envied "Amateur Night" at Harlem's Apollo Theater, McPhatter returned to his job as store manager but was later recruited by Billy Ward & the Dominoes, and was present for the recording of "Sixty Minute Man" for Federal Records, a song regarded as the "first record of rock 'n roll," produced by Ralph Bass.
McPhatter later signed to Atlantic Records on the condition that he form his own group. He assembled the group The Drifters. The group recorded a few tracks, including a song called "Lucille," which was written by McPhatter.
McPhatter was inducted into the Army and assigned to Special Services in the continental United States, which allowed him to continue recording in 1954. After his tour of duty was up, he left the Drifters and launched a solo career. The Drifters continued on as a very successful group
After his discharge from the Army, he released his first solo hit, "Love Has Joined Us Together." He released several R&B recordings in the next few years, including "Rock and cry,' "Seven Days," "Treasure of Love," "Let me know, and his biggest solo hit, "A Lover's Question."
After leaving Atlantic Records, McPhatter then signed on with MGM Records, and released several more songs. However, during this time he was dealing with alcoholism. He moved to England where he lived a quiet life, making on a few appearances during the 1960s.  He had hoped to return to the spotlight but unfortunately in 1972, he died in his sleep from complications due to alcohol abuse.
sources:
http://www.biography.com/people/clyde-mcphatter-40628