Coleman Alexander Young was an politician who served as mayor of Detroit, Michigan from 1974 to 1994. Young was the first black mayor of Detroit. He also became the city's longest-serving mayor.
Young was born in Tuscaloosa, Alabama to William Coleman Young, a dry cleaner, and Ida Reese Jones. His family moved to Detroit in 1923, where he graduated from Eastern High School in 1935. As he was one of the top students in his graduating class, he was eligible for a scholarship but since the scholarship did not cover his complete tuition, he did not attend college. He took a job working with the Ford Motor Company as an assembly line worker. He also became a participant in labor union efforts, particularly in support of the rights of African-American workers. His actions with the union soon led to his dismissal from his job.
During World War II, Young served in the 477th Medium-Bomber Group (Tuskegee Airmen) of the United States Army Air Forces as a second lieutenant, bombardier, and navigator.  Young had nearly completed his service when he was arrested for attempting to desegregate an officer's club in Indiana. He returned to Detroit after serving in the military and resumed his labor organizing. Walter Reuther, head of the United Auto Workers, fired Young in 1948 for radical behavior. Young then worked full-time for progressive presidential candidate Henry A. Wallace. Young also helped found the National Negro Labor Council in 1951.
Young unsuccessfully ran to become a state representative in 1959. He was elected to the Michigan Senate in 1963. In 1968, he became the first African American on the Democratic National Committee. In 1973, Young won election as the first black mayor of Detroit. He was a popular choice among African-American voters.
Young himself expressed his belief that reform of the Police Department stood as one of his greatest accomplishments. He implemented broad affirmative action programs that lead to racial integration, and created a network of Neighborhood City Halls and Police Mini Stations.
In 1981, he received the Spingarn Medal from the NAACP. Young was a Prince Hall Freemason. He died from emphysema in 1997. Upon learning of Young's death, former President Jimmy Carter called Young "one of the greatest mayors our country has known."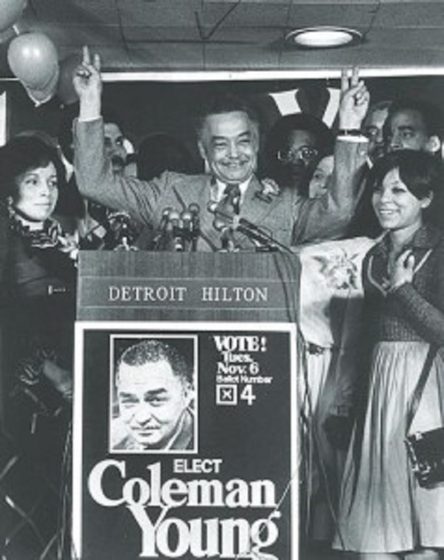 source:
https://www.biography.com/people/coleman-young-39987