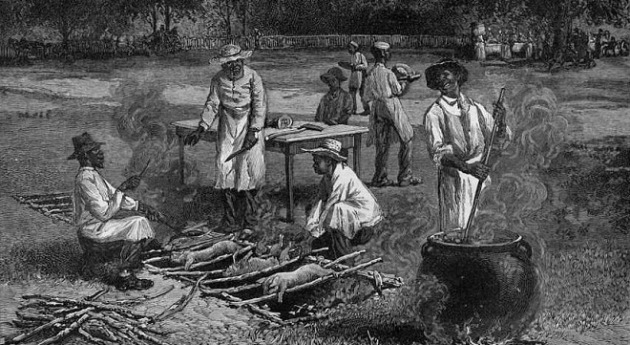 The word barbecue and the open-fire cooking technique came from the Caribbean amongst the Taino people around the late 17th century. The word barbecue itself means "sacred fire pit." The unique way to cook meat spread into Spanish, French and American cultures when slaves were brought from the Caribbean.
In the Southern United States, barbecue initially revolved around the cooking of pork. Prior to the American Civil War, Southerners consumed five pounds of pork for every one pound of beef they consumed. Plantation owners regularly held large and festive barbecues, including "pig pickin's" for slaves. Because of the poverty level in the South during that time, every part of the pig was eaten immediately or saved for later. During the Great Migration, many of the southern slaves moved to northern cities, taking their cooking techniques like barbecue along, which quickly spread across the country.
The true origin of barbecue has been debated in several cultures. Some believe it was born through a tribe in Guyana, while others believe it was a Haitian practice. In western culture, it was said that the word barbecue was a combination of words from an advertisement for a bar, beer, and pool available at a local establishment; hence the word bar-beer-cue.
As the popularity of the barbecue technique spread, the distinction between regional cooking became more about what parts of the pig and cow are barbecued, how it's present and most important, the flavors of the sauce and how and when the sauce is applied. The main regions identified in the U.S. that determine unique flavors have been broken down into several styles: Memphis, Tennessee, North Carolina, Kansas City and Texas.
July is National Grilling (or Barbecue) Month and National Hot Dog Month, mainly due to the popularity of summer cookouts and consumption during the 4th of July holiday.
Original Aricle Found At Little Known Black History Fact: The History of Barbeque | Black America Web.