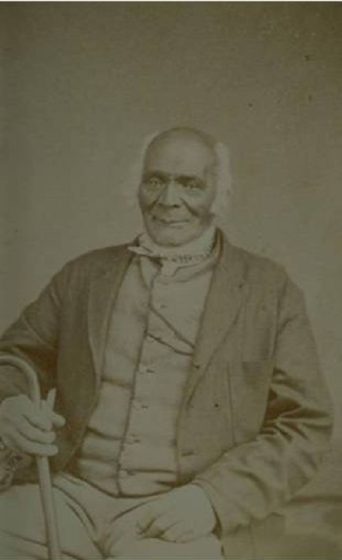 James Mars was born into slavery in Norwalk, Connecticut in 1790. At the age of 25 he won his freedom, and two years later moved to Hartford.
Mars was a faithful member of Talcott Street Church where he also served as a Deacon. He was well known and one of the most prominent African Americans in the region. In 1842, Mars and other black residents petitioned the Connecticut Legislature to remove the word "white" from the voter eligibility clauses in the State's Constitution, thereby granting black men the right to vote. The General Assembly rejected their request. However, due in part to his efforts, the legislature formally abolished slavery in Connecticut in 1848. However, black men were not granted the right to vote until Amendment XV to the United States Constitution in 1870 made it law. Mars was a principal in the 1837 landmark case Jackson v. Bulloch, in which the Connecticut Supreme Court granted slave Nancy Jackson her freedom after two years of residency in the state with her Georgia master, James Bulloch.
Later in life, Mars published a short book entitled The Life of James Mars, A Slave Born and Sold in Connecticut. The Life of James Mars centers around a struggle between northern and southern ideas of slavery, a struggle embodied by the marriage of Mars's master, the Reverend Thompson of Canaan, Connecticut, to a Virginia woman. Thompson's marriage leads to the marriage of Mars's own parents (his father is the New York-born property of Thompson, and his mother is the Virginia-born property of Thompson's wife) and his birth, but it also leads Thompson and his wife to disagree over where they should live. Describing Thompson and his wife as embodiments of their respective regions and figures of the subsequent Civil War, Mars explains that "the South and the North could not agree; the South seceded and left the North; the minister's wife would not live North, and she and her husband picked up and went South, and left my father and mother in Canaan to work the farm" until 1798. Because Connecticut law prohibited the removal of slaves from the state, Thompson originally leaves the couple behind in the hope that their continued labor would be more valuable to him than their sale.
source:
http://docsouth.unc.edu/neh/mars64/summary.html