#Black orphaned children and juvenile offenders made up a large percentage of laborers for white planters in the South from 1865 to 1928. After the Civil War, #slavery still existed in the form of #convict leasing. States in the south would lease prisoners to private railways, large plantations, and private railways. Many states profited but the prisoners earned no pay. Many of them were put in dangerous, inhumane, and deadly work conditions. It is believed that thousands of blacks were forced into what is now called "slavery by another name" until the 1930s.
There were no rules in place for treatment of the prisoners and ultimately, the convict lease system gave birth to the chain gang. Whipping was the accepted norm for punishment. Contractors whipped prisoners for insubordination and trying to escape, but they also used whipping to enforce labor discipline, prompting many to call the system a new form of slavery.
Slavery and involuntary servitude was prohibited under the 13th Amendment to the U.S Constitution ratified in 1865. However, it exempted people who had committed a crime. The Southern state legislature passed "Black Codes"- laws that prosecuted black people for simple things such as breaking curfew, not carrying proof of employment, loitering and many other offenses. The purpose of the codes was to return black people back to chains.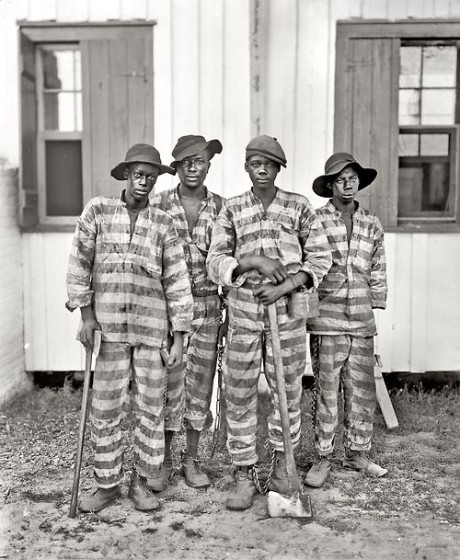 Economic shifts, industrialization, and political pressure ended widespread convict leasing by World War II, but the Thirteenth Amendment's dangerous loophole still permits the enslavement of prisoners who continue to work without pay in various public and private industries. As recently as 2010, a federal court held that "prisoners have no enforceable right to be paid for their work under the Constitution."
source:
http://www.encyclopediaofalabama.org/article/h-1346