Dox Thrash was an American artist. Born in Griffin, Georgia in 1893, he was the second of four children in his family. Thrash left home at the age of 15 in search of work up north as part of the Great Migration.
The first job that Thrash received consisted of working with a circus and Vaudeville act. Three years later, he moved to Chicago, a town that was opening its mind to Black artists at the time. He got a job as an elevator operator during the day, and used this source of income to attend the School of the Art Institute of Chicago at night.
When Dox was 26, he joined the army and fought in World War I. He was placed in the 365th Infantry Regiment, 183rd Brigade, 92nd Division, also known as the Buffalo Soldiers. During combat, Thrash suffered shell shock and a gas attack, but was not permanently injured.
Dox finished his education and worked odd jobs, moving from place to place and struggling to support himself. In 1925, he settled in Philadelphia and took a job working as a janitor. In his free time, he continued his art and used his talent to create a poster for the 2nd Annual National Negro Music Festival. This gained him local recognition and opened doors for new artistic endeavors. He became active in the Tra Club of Philadelphia, which gave his work access to a wider audience.
Thrash is most widely known for his work on the Federal Art Project from 1936 to 1939. While working on this project, he invented the process of carborundum mezzotint, a printmaking technique. Carborundum printmaking uses a carbon-based abrasive to burnish copper plates, creating an image that can produce a print in tones ranging from pale gray to deep black. The method is similar to the more difficult and complicated mezzotint process developed in the 17th century. He used this as his primary medium for much of his career and created his greatest works with it. Thrash died in 1965.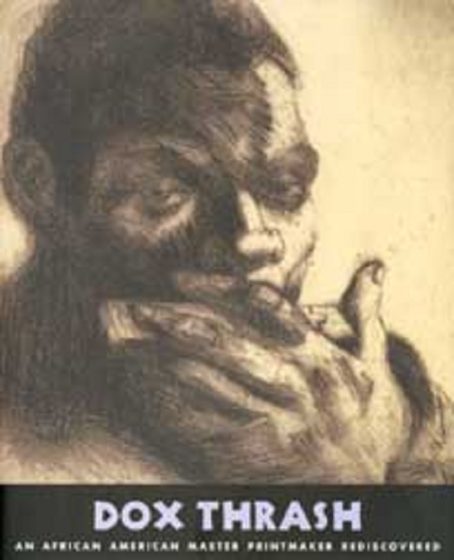 source:
http://www.high.org/Art/Exhibitions/Dox-Thrash.aspx