Dr. Charles H. Wright was a tremendous force in the integration of Detroit hospitals. In 1960, he headed the African Medical Education Fund through the Detroit Medical Education Fund through the Detroit Medical Society in order to fund medical training in the United States for Africans.
Wright was born on September 20, 1918 in Dothan, Alabama. He attended Southeast Alabama High School and then Alabama State College, graduating from each institution in 1935 and 1939, respectively. Dr. Wright graduated from Meharry Medical School in 1943.
Following medical school, Dr. Wright received additional medical training at Harlem Hospital in New York, where he served as an intern and pathology resident in 1943 and 1944. Dr. Wright accepted a second Pathology residency at Cleveland City Hospital in Cleveland, Ohio, completing his second residency in 1945. From 1946 to 1950, Dr. Wright practiced general medicine in the city of Detroit, until Harlem Hospital notified him of a slot in their residency program in Obstetrics and Gynecology. He returned to New York and completed the program in 1953.
He was granted admitting privileges at Hutzel (then Woman's) Hospital in Detroit upon his return. Dr. Wright was board certified as an OB-GYN specialist and as a general surgeon in 1955. He was an emeritus attending physician at Harper-Grace Hospital and a senior attending physician at Sinai Hospital.
Dr. Wright was also involved in the social and political aspects of medicine and society. After receiving a call from his niece in 1965, he promptly traveled to Bogalusa, Louisiana where he served as a resident physician during civil rights marches. In 1964 and 1965, he engaged in medical surveys in West Africa. Dr. Wright died in 2002. He founded Detroit's Museum of African American History and it is now named after Dr. Wright.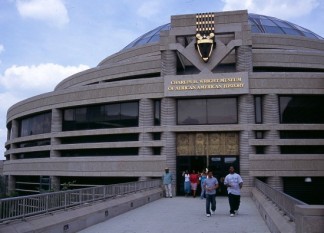 source:
http://historicdetroit.org/building/charles-h-wright-museum-of-african-american-history/