Negroes must also bear the blame for the desecration of humanity that is segregation. For we have been silent much too long. We've been preoccupied with telling our city power structure not what it needs to know, but what it wants to hear. We are here today because we can no longer bear the shame of our guilt because delay means compromising our dignity…we are here today to serve notice on the city of Atlanta and the state of Georgia. We are tired of segregation and we want equality now.  – Prathia Hall

Prathia Hall was a renowned speaker, leader, activist, and womanist theologian. She reportedly was the inspiration for Dr. Martin Luther King, Jr.'s "I Have a Dream" speech.
Hall was born in Philadelphia, Pennsylvania, and was the daughter of the founders of Mount Sharon Baptist Church, an inner-city church in an underserved area of Philadelphia. Her father, Reverend Berkeley Hall, was a Baptist minister who was also a passionate advocate for racial justice.
As a young girl, her parents sheltered her from the indignities and day-to-day problems that most black people endured during that time. She received her early education by attending predominantly white schools.
One day, Hall traveled along with her sisters to visit their grandparents in the South; it was the first time that Hall encountered racism. She along with her sisters were forced to sit in a car behind the engine. With Hall's father's support, she began to studying nonviolence in the 1950s, frequenting workshops on nonviolent direct action.
After high school, she enrolled at Temple University, and by her junior year at Temple, she had joined demonstrations on Maryland's Eastern Shore. Hall left Temple in August of 1962 to become a Freedom Rider with the Student Nonviolent Coordinating Committee, eventually becoming one of the first female field leaders of the organization.
During a visit to Terrell County, Georgia, in 1962, Dr. Martin Luther King, Jr. heard Hall, a young college student at the time, speak at Mt. Olive Baptist Church. Through her prayer, she shared her personal vision of what she hoped for the future of Black Americans. In her prayer, she used the phrase, "I Have A Dream" many times. Dr. King was very impressed with Hall's prayer. In particular, he admired her use of the phrase, "I Have A Dream." As ministers often do, King would later incorporate "I Have A Dream" into some of his own speeches. Dr. King is quoted as saying, "Prathia Hall is the one platform speaker I would prefer not to follow."
Hall was dedicated to her religion and very involved in the Baptist church. She was well-known for her moving sermons and speeches, and she became one of the first women ordained by the American Baptists' Association.
In the 1970s, she was referenced as being one of the most powerful preachers in the country by Ebony magazine. Hall died in 2002.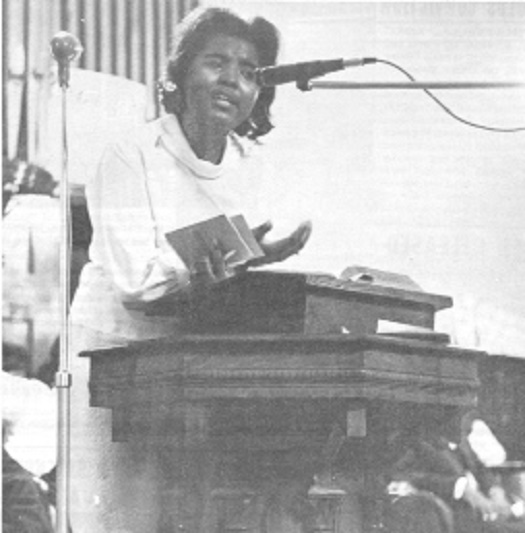 sources:
http://mysoulrhythms.com/2011/03/21/learning-about-a-faith-filled-woman-prathia-hall/
http://www.pbs.org/thisfarbyfaith/