Dr. Nathan Francis Mossell was the first African-American to earn a medical degree from the University of Pennsylvania Medical School in 1882, as well as the first African American member of the Philadelphia County Medical Society. As a nationally prominent physician and surgeon, he was also the founder of the Frederick Douglass Memorial Hospital, the founder of the Philadelphia branch of the NAACP and a co-founder of the Philadelphia Academy of Medicine and Allied Sciences.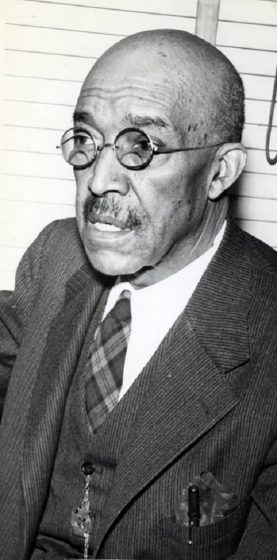 Mossell was born in Hamilton, Ontario, Canada on July 27, 1856, to Aaron and Eliza Bowers Mossell. His father was the grandson of slaves, and his great-grandfather was known to have been brought to the United States from West African. His mother came from a free Black family that had been deported to Trinidad as a child.
As a young boy, Mossell worked for his father's brickyard. He soon grew to be strong and tall as most full-grown men. After his second oldest brother's death, he stopped going to school altogether to work for his father full-time. In 1871, he decided to follow in another brother's footsteps and attend Lincoln University.
He completed four years of preparatory school in three years, after which went on to the complete four years in the college. At the time of his 1879 graduation from Lincoln with a Bachelor of Arts degree, Mossell took second honors in his class and was awarded the Bradley Medal in Natural Science.
After graduating from Lincoln University, Nathan Mossell entered the Medical School of the University of Pennsylvania. At Penn, he took second honors in his medical school class. After graduating in 1882, he became the most prominent of Penn's first African American students. Upon graduating, Mossell was trained first by Dr. D. Hayes Agnew in the Outpatient Surgical Clinic of the University Hospital.
Upon opening his office at 924 Lombard Street, Dr. Mossell quickly began to have an impact on Philadelphia medical practice and on the position of African Americans in the city and beyond. In August of 1895, he became the leading figure in the founding of the Frederick Douglass Memorial Hospital and Training School – the second Black hospital in the United States.<
Mossell was also a political activist.  In 1905, he was a founding member of the Niagara Movement, which was organized by W.E.B. DuBois to oppose the policies and influence of Booker T. Washington. Five years later he became a founding member of Philadelphia's National Association for the Advancement of Colored People (NAACP).
In 1948, two years after Mossell's death, Douglass Hospital merged with another predominantly black hospital to create Mercy Douglass Hospital on Woodland Avenue between 50th and 51st Streets in West Philadelphia.
sources:
http://www.blackpast.org/aah/mossell-nathan-francis-1856-1946
http://www.archives.upenn.edu/people/1800s/mossell_nathan_f.html