Diana Fletcher was the daughter of an enslaved African who ran away to seek freedom in Florida, and a Seminole woman who died on "The Trail of Tears," the forced relocation of American Indians to Oklahoma. She was born in 1838, and was said to have been separated from her father, once in they arrived in Oklahoma. She was later adopted and raised by a Kiowa family who taught Fletcher traditional Kiowa crafts.
When the tribe in Oklahoma raised enough money; they got together and built a small school for the children. The Black Indian schools were operated during that time by "The Five Civilized Tribes: the Creek, Chicasaw, Cherokee, Choctaw, and Seminole. Some sources say Diana taught fellow American Indians. Her main accomplishment was valuing and preserving her family's history, culture and values, while, at the same time, learning to adjust and adapt to white American society. However, due to lack of knowledge, racial bias and hostility, the U.S. government attempted to force American Indians with African heritage to reject their heritage.
The Hampton government boarding school opened for Black students in 1868, with the intent of educating by training "the head, the hand, and the heart" so pupils could return to their communities as leaders and professionals among their people. In 1878, the institute opened its doors to give American Indians the same education.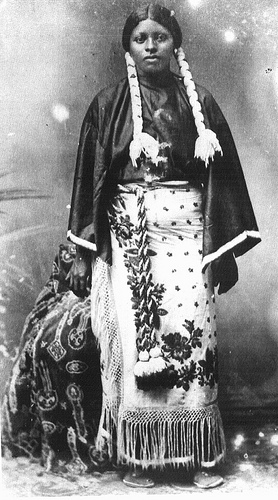 source:
http://www.womeninhistoryohio.com/diana-fletcher.html