Dwayne McDuffie was a phenomenal writer of comic books and animated television. He was best known as a founder of Milestone Media, described in 2000 as "the industry's most successful minority-owned-and-operated comic company."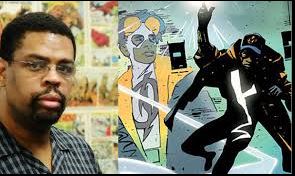 McDuffie was born and raised in Detroit, Michigan, to Edna McDuffie Gardner on February 20, 1962. He graduated from The Roeper School and the University of Michigan with a bachelor's degree in English, and then earned a master's degree in physics.
He moved to New York to attend film school at New York University's Tisch School of the Arts. During this time in the Big Apple, McDuffie co-hosted a radio comedy program and wrote for stand-up comedians and late-night television comedy programs. While McDuffie was working as a copy editor at the business magazine Investment Dealers' Digest, a friend got him an interview for an assistant editor position at Marvel Comics.
Working at Marvel, McDuffie assisted editor Bob Budiansky on special projects. McDuffie helped develop the company's first superhero trading cards and scripted stories. His first major work was Damage Control.
After becoming an editor at Marvel, McDuffie submitted a spoof proposal for a comic entitled Teenage Negro Ninja Thrashers. In 1990, he became a freelancer and wrote for dozens of comics titles for Marvel, DC Comics, and Archie Comics.
McDuffie and three of his work partners founded Milestone Media, which The Plain Dealer of Cleveland, Ohio, described in 2000 as "the industry's most successful minority-owned-and operated comic company." Characters at Milestone Media include the African American Static, Icon, and Hardware; the Asian-American Xombi; and the multi-ethnic superhero group the Blood Syndicate.
He was hired as a staff writer for the animated series Justice League, and was later promoted to story editor and producer. During the entire run of the animated series, McDuffie wrote, produced, or story-edited 69 episodes. McDuffie is also credited for writings of Teen Titans and What's New, Scooby-Doo.
McDuffie died one day after his 49th birthday after having emergency heart surgery on February 21, 2011.
sources:
http://ben10.wikia.com/wiki/Dwayne_McDuffie
http://aaregistry.org/historic_events/view/dwayne-mcduffie-super-hero-writier
https://en.wikipedia.org/wiki/Dwayne_McDuffie