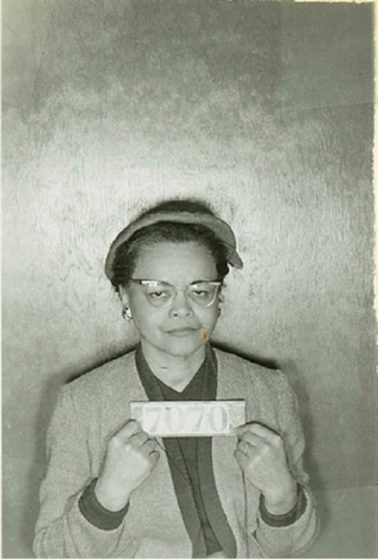 Euretta Adair was one of the over 80 African American civil rights activists arrested on February 21, 1956 in Montgomery, AL for her participation in the Montgomery Bus Boycott.
Adair was a prominent member of the Montgomery Improvement Association (MIA), formed in the days following the December 1955 arrest of Rosa Parks to oversee the Montgomery Bus Boycott. Under the leadership of Ralph Abernathy, Martin Luther King, Jr. and Edgar Nixon, the MIA was instrumental in guiding the Montgomery bus boycott, a successful campaign that focused national attention on racial segregation in the South and catapulted King into the national spotlight.
The organization played a significant role in the fight against segregation, helping to organize volunteers, fundraise and providing community support. Adair served on the MIA Executive Board, along with black women activists Jo Ann Robinson, Irene West, Rosa Parks, and others.
The MIA organized carpools and held weekly gatherings with sermons and music to keep the black community mobilized. Also during this time period, officers of the organization negotiated with Montgomery city leaders, coordinated legal challenges with the NAACP to the city's bus segregation ordinance, and supported the boycott financially, raising money by passing the plate at meetings and soliciting support from northern and southern civil rights organizations.
Adair was a also a member of the civil rights group, the Women's Political Council (WPC) founded in Montgomery, AL. The WPC was one of the first organizations to call for a boycott of the bus system in Montgomery.
sources:
http://www.thesmokinggun.com/documents/crime/heroes-civil-rights-movement
https://en.wikipedia.org/wiki/Montgomery_Improvement_Association