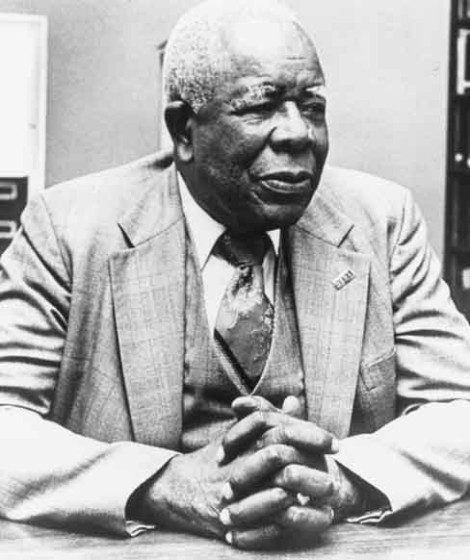 Edgar Daniel Nixon, known as E. D. Nixon, worked closely with Rosa Parks and Dr. Martin Luther King to organize the landmark Montgomery Bus Boycott in 1955. He was key in bailing Rosa Parks out of jail and positioning her case to spark the Montgomery Bus Boycott.
Nixon was born on July 12, 1899, in Lowndes County, Alabama, to Sue Ann Chappell and Wesley M. Nixon. His mother died when he was just a young boy.
As a young man he found work as a Pullman porter in the early 1920s. When he also became involved with the Brotherhood of Sleeping Car Porters. He went on to become the leader of the BSCP Alabama branch and a thoughtful, empowering community activist who largely influenced the civil rights movement.
He later wrote a letter to Eleanor Roosevelt calling for an establishment of a USO Club for African-American servicemen. She took action on his request, and the two later coincidentally met when she was riding on a train and he was working as a porter, beginning a friendship
organize the Montgomery Voters League, becoming its president and leading a march of more than 700 citizens to the Montgomery County Municipal Court House, calling for an end to unfair practices that blocked African-American voting rights.
It was the Montgomery Bus Boycott, however, that gave Nixon national fame.  On December 1, 1955, Nixon posted bail for Rosa Parks after she was arrested for refusing to give up her seat to a white male passenger.  That arrest initiated a series of events that led to the boycott.  Nixon arranged for Clifford Durr, a white attorney, to represent Parks in court and then he and other Montgomery blacks organized the Montgomery Improvement Association (MIA).  Nixon persuaded Rev. Martin Luther King, Jr., a relative newcomer to the city, to become the MIA's first president. Nixon was given the NAACP's Walter White Award for public service in 1985.  Edgar Daniel Nixon died on February 25, 1987 in Montgomery.
sources:
http://www.biography.com/people/ed-nixon-21308863
http://www.blackpast.org/aah/nixon-e-d-nixon-1899-1987