Educator Edna Meade Colson dedicated her professional career toward making it easier for African Americans to receive a high quality education throughout Virginia.
Colson was born and educated in Petersburg and attended Fisk University's normal school in Nashville, Tennessee. She taught for one year in North Carolina and then returned to Virginia as an instructor in the academic department at the renamed Virginia Normal and Industrial Institute (1909–1912). Colson pursued her graduate work outside of Virginia because there were no graduate programs available to blacks in the state's segregated universities.
Colson was among the first Black women to register to vote after ratification of the Nineteenth Amendment. She was also a charter member of the Delta Omega chapter of the Alpha Kappa Alpha Sorority, Inc.. Colson received life memberships in both the American Teachers Association and the National Education Association. In 1950, she was the first black Virginia woman to become a life member of the National Association for the Advancement of Colored People.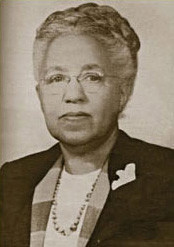 http://www.lva.virginia.gov/public/trailblazers/2008/index.htm?id=4