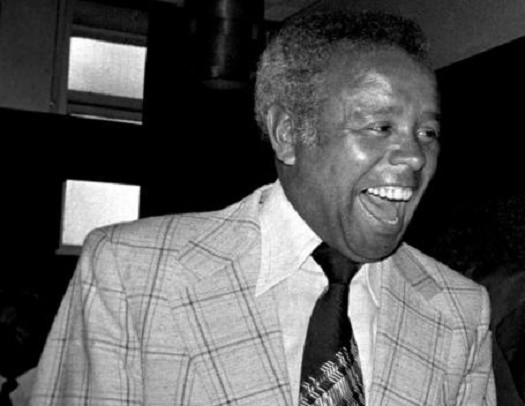 Charles Adolphus Williams MBE was an English professional footballer who was one of the first black players in British football after the Second World War, and later became Britain's first well-known black stand-up comedian.
Williams often poked fun at his color, dabbled with race issues and mostly the jokes were at his own expense. Interviewed in 1992, Lenny Henry described what happened when he started out as a teenage comedian in the mid-1970s: "Charlie told a lot of 'darkie jokes'. 'I've been left in the oven too long' or 'I'm perspiring a lot, I'm leaking chocolate' – which were very stupid and very immature. I remember doing a show in Hull and a guy shouting out 'Oi! You've got to do jokes like Charlie Williams. That's the kind of thing we expect from black comedians up here'.
Williams was born in Royston, a small mining village near Barnsley, West Riding of Yorkshire. His father, also Charles, had come to Britain in 1914 from Barbados and enlisted in the Royal Engineers.
After the First World War, his father settled in Royston, where he sold groceries from a horse and cart, and married a local woman, Frances Cook. His father had been forced to give up his job as a greengrocer as a result of trench foot acquired in France and depended on National Assistance.
After leaving school aged 14, Williams worked at Upton Colliery during the Second World War, a reserved occupation. He played football for the colliery team, before turning professional, and signing for Doncaster Rovers in 1948, aged 19. A center-half, he played for the first team in 1950, but then remained in the reserves until 1955, when he became an established first team player for four years. He played 171 times for Rovers in total, but scored only one goal, in a Second Division game away to Barnsley on 24 March 1956.
As a comedian, Williams became famous from his appearances on Granada Television's The Comedians and ATV's The Golden Shot, delivering his catchphrase, "me old flower" in his broad Yorkshire accent. Williams tried his hand as a singer in local working men's clubs, but it was his comic chat between the songs that was best received, so he decided to move into comedy full-time. He eventually became Britain's first well-known black television comedian.
By the late 1970s and early 1980s, his brand of humor was becoming old-fashioned, and his career declined. He caused offense to some, and praised by others, for defending the Robertson's Golliwog trademark, and for saying that immigrants to the United Kingdom should conform to the British way of life. He retired after a final tour in 1995.
[embedyt] https://www.youtube.com/watch?v=zHInGjkcxFc[/embedyt]
sources:
https://alchetron.com/Charlie-Williams-(comedian)
https://en.wikipedia.org/wiki/Charlie_Williams_(comedian)