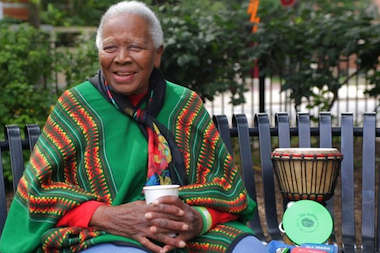 Folk singer Ella Jenkins entertained children in a musical career for almost fifty years and has performed for children all over the world. During her youth, Jenkins mastered playing over fifty world instruments including the maracas, ukulele, and Kalumba drum.
Born Ella Louise Jenkins on August 6, 1924, in St. Louis, she was reared in the South Side of Chicago. She and her family moved often, and the children's songs and games she learned in each neighborhood collected in her memory.
Growing up, she listened to her uncle play the harmonica after a long hard workday; a habit she soon picked up. Neither Jenkins nor her uncle was trained professionally to play the harmonica. Jenkins often credited her uncle and mother for being the greatest influences in her musical career.
During Jenkins' youth, she worked as a camp counselor and later found other work opportunities dealing with the youth. Jenkins knew it was important to receive a good education in order to be a good role model for the youth. Her love for children is what made her choose her career path. She graduated in 1951 from San Francisco State College with a B.A. in sociology and a minor in child psychology and recreation. In each job she incorporated music, including her own compositions, while working with children.
In 1956 she created a demo and was introduced to Moses Asch, a Folkways music producer out of New York.   After signing a recording contract during the meeting, she released her first album the following year, Call and Response: Rhythmic Group Singing. This began a musical career that has spanned nearly 50 years and produced 32 albums.
Her work with children earned her the distinction as " the first lady of children's folk song." Some of the accolades she achieved over the years include Best Variety Performer Award by the American Academy of Children's Entertainment, Pioneer in Early Television Citation by The National Museum of American History, and so much more.
Sources:
http://www.ellajenkins.com/
http://barney.wikia.com/wiki/Ella_Jenkins