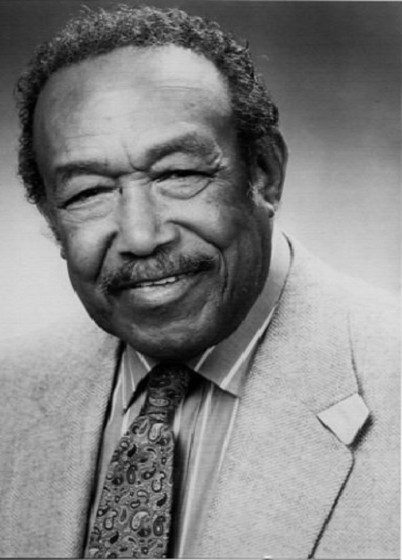 James Wheaton appeared in film, television, and did work as a voice actor. He is best known for lending his voice in George Lucas' THX 1138, a role which he received over Orson Welles.
Born James Lorenzo Wheaton on January 11, 1924 to the Reverend James D. Wheaton, a Methodist minister and Jessie O. Holmes. He attended public schools in Hattiesburg, Meridian and Yazoo City, Mississippi. After graduation from Wiley College in 1945, he was drafted into the U.S. Army at the tail end of World War Two. Stationed in the Philippines, he served as a chaplain's assistant for most of his time in the military.
When he returned  to the United States, he was accepted into a Master's Degree Program at Columbia University, where he majored in speech communication and acting.  He taught for a while at Wiley College, before decided to move to Los Angeles, where he found work in radio production.
His big break came when he was asked to join the Bishop's Company, a repertory theater company that toured across the United States. He was the only black member of the group, so he was given numerous opportunities to play a wide range of roles, which was uncommon for African-Americans during the time.
One of his most remembered roles with the company was as "Scratch" in "The Devil and Daniel Webster." Years later,  become a leading actor with the Ebony Showcase Theatre in Los Angeles. Wheaton soon began to direct several productions for the theater.  His role as "J.B. Mongoose" in the Ebony Showcase production of "Carnival Island" receive wide acclaim, and he soon began appearing on television.
During the late 1960s and 1970s, he appeared on television on some of the most popular television programs of the day including Good Times,  Room 222, Ironside. He also had a recurring role as Nelson B. Davis, "The Friendly Undertaker," on Sanford and Son.
Wheaton and Bill Cosby teamed together  in A Piece of the Action, which also starred and was directed by Sidney Poitier. In the early 1970s, he taught at Figueroa Street Elementary School and Parmelee Avenue Elementary School in Los Angeles. James Wheaton died on June 9, 2002.
sources:
http://movie-like.com/actor/james-wheaton_230102/