Elmer Simms Campbell was a renowned cartoonist and the first to publish his work in general-circulation magazines.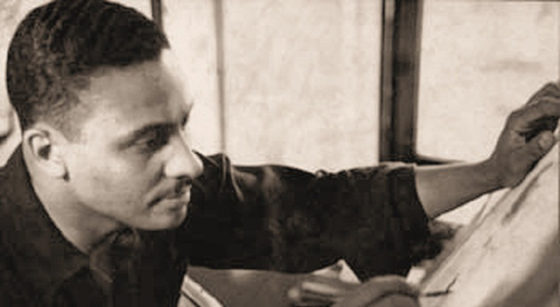 Campbell was born on January 2, 1906. While attending high school, Campbell won a nationwide contest in cartooning. He later studied at the University of Chicago and the Art Institute of Chicago.
While working as a railroad dining-car waiter, he often drew caricatures of the passengers. One of the passengers was so impressed with his work that he offered Campbell a job in a commercial art studio in St. Louis. After a couple years in St. Louis, Campbell moved to New York City and eventually contributed to various humor magazines.
Following the suggestion of fellow cartoonist Russell Patterson Campbell created "Harem Girls," a series of watercolor cartoons. Campbell's artwork was in almost every issue of Esquire from 1933 to 1958.
Campbell's work has been published in Esquire, Cosmopolitan, The New Yorker, Playboy, Ebony, Redbook, among other publications. Campbell died in 1971.
sources:
http://blackamericaweb.com/playlist/the-art-of-elmer-simms-campbell/item/166954/
http://aaregistry.org/historic_events/view/elmer-s-campbell-cartoonist-born