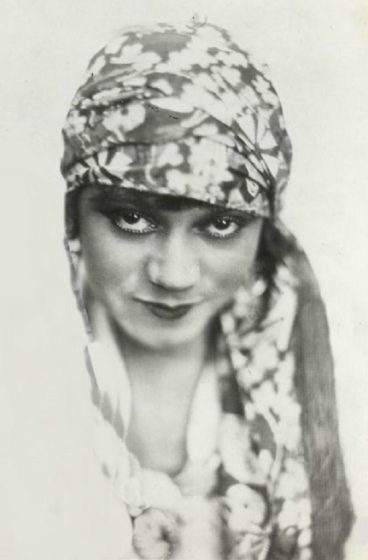 Gertrude Saunders was an actress known for her performances in Big Timers (1945), Sepia Cinderella (1947), and The Toy Wife (1938). She also infamously known for her affair with 'Empress of the Blues," Bessie Smith's husband.
Saunders was born in Asheville, North Carolina, and studied at Benedict College, Columbia before leaving in her teens to join a vaudeville troupe based in Chicago, organized by Billy King. She was a featured singer and comedian and performed a number of hit songs including "Wait 'Til the Cows Come Home" (1918), "Hot Dog" (1919), and "Rose of Washington Square" (1920).
Saunders had starred successfully in the title role of Irvin C. Miller's Red Hot Mama show during the 1926 season and headed the cast of various subsequent editions, but her most successful shows had been Liza and the 1921 Sissle and Blake hit, Shuffle Along (which included Josephine Baker in the chorus line).
She was spotted by vaudeville promoters Hurtig and Seamon, who offered to increase her salary if she would star in a burlesque show. She accepted the offer and was replaced in Shuffle Along by Florence Mills. Mills career was cut short in November 1927, when she died at the age of 35, but the bright spotlight Saunders so foolishly relinquished was never restored to her. Saunders' career faltered as a result of the move, though she continued to star in revues through the 1920s, notably several produced by Irvin C. Miller.
Bessie Smith had given her husband, Jack Gee, money to produce a show for her. Jack threw together a cheap production as possible for Bessie and decided to use the remainder of the money for personal gain—not to enrich himself financially, but to win the heart of Saunders, a singer of striking looks and impressive past accomplishments. Saunders' complexion was light, her hair long and her disposition gentle. She was also slim and quite a bit younger than Bessie.
In 1929, Saunders was featured in a revue promoted by Gee. Smith suspected that Saunders and Gee were having an affair, and beat up Saunders twice, as a result of which Smith was charged with assault; her marriage to Gee ended soon afterward. In 1931, Saunders suffered a breakdown and returned to Asheville to recuperate. Saunders died in Beverly, Massachusetts, in 1991.
sources:
https://en.wikipedia.org/wiki/Gertrude_Saunders