Singer Etta James is regarded as having bridged the gap between R&B and rock and roll music. She was known by her fans as "Miss Peaches" and "The Matriarch of R&B."
Etta James was born Jamesetta Hawkins on January 25, 1938, in Los Angeles, California, to 14-year-old Dorothy Hawkins. It was speculated her father was pool player Rudolf "Minnesota Fats" Wanderone. Because of the absence of both her father and mother, James grew up living in different fosters homes and often referenced to her mother as the "mystery lady."
She received her first professional vocal training at the age of five from James Earle Hines, musical director of the Echoes of Eden choir, at the St. Paul Baptist Church in south central Los Angeles. James' foster father, "Sarge," often woke her up in the middle of the night after his binge drinking to sing to his friends. There were nights James would stand with her clothes soaked with urine because she was a bed wetter, singing for his friends, fearful if she didn't she would be beaten.
After James' foster mother died, she moved with her biological mother to the Fillmore district of San Francisco. She soon formed a girl group called the "Creolettes." The girls soon met Johnny Otis who took them under his wing. He helped the girls sign to Modern Records and changed their name from "The Creolettes" to "The Peaches" and gave the singer her stage name reversing Jamesetta into "Etta James."
After leaving The Peaches, James had another R&B hit with "Good Rockin' Daddy." When her contract with  "Modern" came up in 1960, she decided to sign with Leonard Chess' namesake label, Chess Records. Her debut album, At Last! was released and noted for its varied choice in music from jazz standards to blues numbers to doo-wop and R&B.
James continued to perform, but little was heard of her until 1984 when she performed "When The Saints Go Marching In" in the 1984 Summer Olympics opening ceremony. It was not until the 1990s that she began to receive wide recognition for her contributions to the music industry. In 1993, she was inducted into the Rock and Roll Hall of Fame, and in 2001, she was inducted into the Blues Hall of Fame. She was inducted into the Grammy Hall of Fame in 1999 and 2008 for "At Last" and "The Wallflower," respectively, and in 2003, she was honored with the Grammy Lifetime Achievement Award. On April 18, 2003, James was honored with a star on the Hollywood Walk of Fame.
In 2008, James was portrayed by Beyoncé Knowles in the film Cadillac Records, based on James' label of 18 years, Chess Records. She died in 2012 at the age of 73.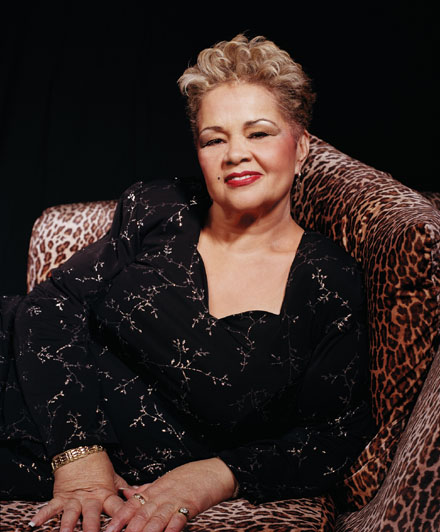 source:
http://www.biography.com/people/etta-james-9542558#!