Ferguson (Fergie) Arthur Jenkins is one of Canada's most celebrated baseball players. Jenkins, who played for the Philadelphia Phillies and the Chicago Cubs. Jenkins was inducted into the National Baseball Hall of Fame in 1991.
Jenkins was born and raised in Chatham, Ontario, the only child of Delores and Ferguson Jenkins, Sr. His father, a chef, and chauffeur immigrated from Barbados, while his mother was a descendant of American slaves who escaped through the Underground Railroad before settling in Southwestern Ontario.
Throughout Jenkin's high school years, he competed in track and field, ice hockey, and basketball. He began playing bantam baseball and honed his pitching skills by throwing pieces of coal from a local coal yard, aiming either at an open ice chute or the gaps of passing boxcars. Gene Dziadura, a former shortstop of the Chicago Cubs, encouraged Jenkins to keep working on pitching.
Gene Dziadura, a former shortstop of the Chicago Cubs, who came to know Jenkins love for the game, encouraged him to keep working on pitching. In 1962, Jenkins was signed by Philadelphia Phillies scout Tony Lucadello. He made his major-league debut as a 22-year-old in 1965, as a relief pitcher.
Jenkins was traded in 1966 to the Chicago Cubs. Throughout his career, Jenkins was known as one of the best pitchers in the league. In his first full year as a starter for the Cubs (1967), Jenkins recorded twenty wins while posting a 2.80 ERA and 236 strikeouts. He finished tied for second in the Cy Young Award voting, following Mike McCormick of the San Francisco Giants. He was also selected for the All-Star Game for the first time that season.
In 1974 Jenkins, then with the Texas Rangers, became the first baseball player to win the Lou Marsh Trophy, an award given annually to Canada's top athlete. Fergie retired after the 1983 season, returning to Chicago and retiring as a Cub, not long after recording his 3,000th strikeout. At the time, he was the only pitcher in baseball history to strikeout more than 3,000 batters while accumulating less than 1,000 walks (997), a feat only since matched by Curt Schilling, Pedro Martinez and Greg Maddux.
Jenkins was named the Canadian Press male athlete of the year four times. Jenkins was inducted into the Canadian Baseball Hall of Fame in 1987, and in 1991, became the first Canadian ever elected to the Baseball Hall of Fame in Cooperstown, New York.  On December 13, 2010, Canada Post announced that Jenkins would be honored in Canada with his own postage stamp.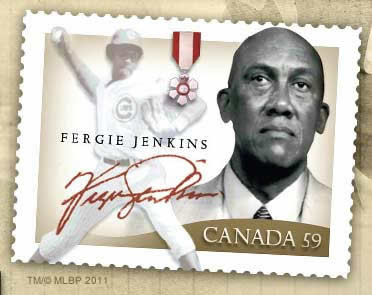 source:
http://www.fergiejenkins.ca/site/biography
https://en.wikipedia.org/wiki/Ferguson_Jenkins