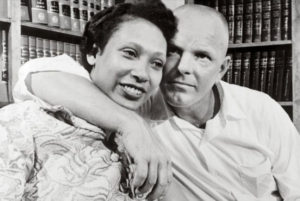 Mildred and Richard Loving: Two of the most recognizable faces of that challenged interracial marriage in America, are Mildred and Richard Loving. Mildred and Richard were both from Virginia, and had traveled to Washington DC to get married in 1958. On July 11, 1958, the newlyweds were asleep in bed when three armed police officers burst into their room. The couple was then thrown in jail, all for the crime of getting married. At that time, 24 states across the country had laws strictly prohibiting marriage between people of different races.The couple had decided to marry in defiance to the laws, five weeks earlier after finding out that Mildred was pregnant. In order to evade Virginia's Racial Integrity Act, the pair had traveled to Washington, D.C. for the ceremony. Upon their return to Virginia, they were arrested and found guilty, with the judge informing Mildred that "as long as you live you will be known as a felon." Their sentence was ultimately commuted but they were ordered to leave their home state for 25 years, although they longed to move back to Virginia. They approached the American Civil Liberties Union in 1963 to fight their case in court. After an extensive legal battle, the Supreme Court ruled that laws prohibiting interracial marriage were unconstitutional in June of 1967. After the 1967 landmark case, they lived in Virginia with their three children until Richard's death in 1975.
Photo © Bettmann/CORBIS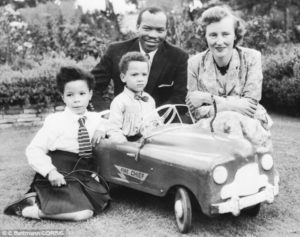 Ruth Williams Khama and Sir Seretse Khama: Seretse Khama, then prince of the Bamangwato people, met and married the British Ruth Williams in England in 1947 after meeting while he was attending law school. He later became the president of Botswana. Their marriage caused a huge scandal and prompted outrage. When they announced their marriage in 1948, Ruth's father threw her out of the house while Seretse's uncle declared "if he brings his white wife here, I will fight him to the death." Apartheid South Africa also attempted to pressure England, which controlled Bamangwato at that time, to force an end to the marriage. The British government then exiled the Khamas from protectorate Bamangwato in 1951 for eight years. In 1956, the Bamangwato people sent a telegram to Queen Elizabeth II demanding that Seretse, now their king, be allowed back. They returned and he won the 1965 elections and served four terms as president of Botswana. Their sons Ian and Tshekedi later became significant political figures as well. The marriage is said to have inspired the film A Marriage of Inconvenience and the book Colour Bar.
Photo © Bettmann/CORBIS
Arcadio Huang and Marie-Claude Regnier: Arcadio Huang was a prominent figure in the 17th century. He was born in a small town in China's Fujian province, where his parents were set on him becoming a priest. He was adopted by a French priest and later traveled to France with Bishop Artus de Lionne. In France, he soon joined with a number of promising young French scholars to develop a Chinese-French dictionary. In 1713, he married a middle class Parisian woman named Marie-Claude Regnier. There are very few marriage records of marriages between Europeans and non-Europeans during that time and many considered these relationships unheard of. Sadly, Marie died shortly after the birth of their daughter in 1715 and Arcadio followed in 1716. It is believed that their relationship was one of the first of its kind.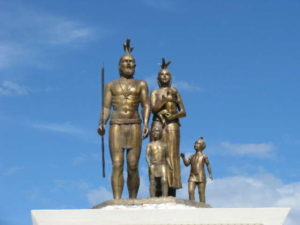 Gonzalo Guerrero and Zazil Ha: Some of the first people of Spanish/Mayan heritage were the product of a very unique marriage. Gonzalo Guerrero, a survivor of a shipwreck of the Yucatan coast, was held captive by the Maya after being discovered. In a desperate attempt to avoid being killed, he successfully sought to learn his captors' language and customs. Over time, he gained acceptance into the culture and taught Spanish combat tactics to the Maya, which are said to have allowed them to drive out the conquistadors. Guerrero eventually became a highly respected figure in Mayan society and went on to marry a princess Zazil Ha and was given the temples of Ichpaatún, north of Chetumal. Spanish Conquistador Hernán Cortés arrived in the area and attempted to retrieve Guerrero and one other survivor. But Guerrero refused to leave, saying, "I am married and have three children, and they look on me as a cacique ["lord"] here, and captain in time of war. My face is tattooed and my ears are pierced. What would the Spaniards say if they saw me like this? Go, and God's blessing be with you."
Photo: Statue of Gonzalo Guerrero guarding over his family.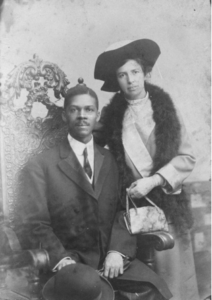 Louisa and Louis Gregory: Louis Gregory, an African American man and Louisa Mathews, a British woman were of the Bahá'í faith: a religion centered on unity. They met while on a pilgrimage to the Holy Land in Egypt. Their romance was not well received by the general public, especially in the United States, where racism was prevalent. In spite of the Bahá'í faith's innermost message of "Oneness of Mankind," many people of the faith living in Washington, D.C. still did not approve of their union and adhered to the attitude of racial segregation. With Bahá'í leader Abdu'l-Bahá declaring his staunch support for interracial marriages, Louis and Louisa were married in 1912 in New York, becoming the first interracial Bahá'í couple. Louis became an advocate for interracial marriage both in the United States and in the Bahá'í community. Despite numerous obstacles, the couple remained married for almost 40 years, until Louis's death in 1951.
Photo:Louis and Louisa Gregory
Leonard Kip Rhinelander and Alice Jones: The New Rochelle, New York annulment trial of Leonard "Kip" Rhinelander and his wife, Alice Jones Rhinelander, was a highly publicized issue in the 1920s which highlighted white America's definitions of race, class, and marriage. Rhinelander was a white socialite born into a prominent New York family. Jones was the biracial daughter of a working class couple. They met in Stamford, Connecticut in 1921 and began a three year love affair which culminated into marriage 1924. Because of the Rhinelanders' high position in society, their marriage was listed in the New York Social Register. Alice became the first black woman to appear in its pages, and the media immediately swung into action. News of their marriage quickly spread and Kip's family demanded that he end the marriage. He eventually gave into his family's demands. The divorce trial was centered on Kip's claim that Jones had passed herself off as a white woman. Under the eyes of an all-white, all-male jury, the focus of the trial became whether Rhinelander must have reasonably known of Jones's mixed heritage. In a move that was disturbing and demeaning, Jones was ordered to strip off all her clothes so the jury could determine if she was to be considered "colored." They ruled in Jones's favor, and the annulment was denied. Kip's estate was ordered to pay a yearly allowance to Alice for the rest of her life. The couple never reunited.
Photo © Bettmann/CORBIS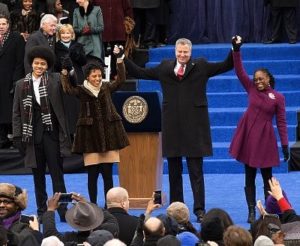 Bill de Blasio and Chirlane McCray: Despite the increased acceptance of interracial marriage across the U.S., New York Mayor Bill de Blasio was white official to be elected into a major office with a black spouse by his side. His wife, Chirlane McCray, is expected to play a pivotal role in his administration. While there has been an increase in the acceptance of interracial marriage, there are still many who strongly disapprove of it. In 2013, a Cheerios commercial that featured a biracial, family sparked so many racist remarks on Youtube that comments had to be disabled. Although things have come a long way, there is still a long way to go regarding this matter. Many look at the de Blasio marriage as another significant milestone.
Photo: Janet Mayer/Splash News/Corbis