Flora Batson, an internationally acclaimed concert singer during the 19th century, was dubbed the "The Double Voiced Queen of Song" because of her vast vocal range.
As a young girl, Batson sang in local choirs. After declining an offer to study music on a full scholarship at Storer college, she continued her career under the management of social reformer Thomas Doutney at various temperance revivals. Her performance in New York City at the Masonic Temple in 1885 is what sparked her professional musical career.
After singing "Six Feet of Earth Make Us All One Size" for ninety consecutive nights, she caught the attention of John G. Bergen, the white manager of the all-black Bergen Star Concert Company. She accepted his invitation into the company, and by 1887 she had achieved national fame as its leading soprano.
Batson married Bergen on December 13, 1887 and their interracial marriage made tabloid headlines. Their union was mutually beneficial, as he continued to manage her career while she brought fame and critical acclaim to his company and their marriage. After Bergen's death in 1896, Batson toured and later remarried.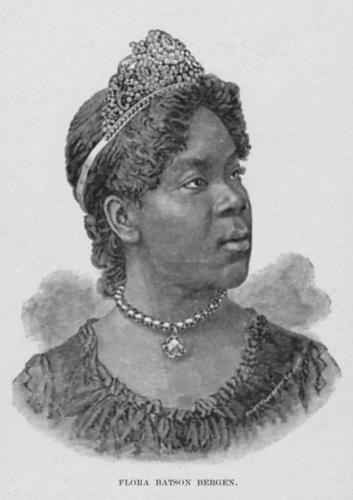 In 1896, another phase of her singing took place with Black bassist Gerard Miller. The two performed together as a feature duet with the South Before the War Company. International appearances during this time included Great Britain, the Samoan Islands, New Zealand, Australia, Fiji, India, China, and Japan.
Her last years were spent in Philadelphia performing concerts and dramatic presentations. She was one of the most acclaimed Black concert singers of the 19th century.
source:
http://aaregistry.org/historic_events/view/flora-batson-singers-singer
http://www.digplanet.com/wiki/Flora_Batson