On September 16, 1928, a Category 4 hurricane with winds of 140 miles per hour tore through Palm Beach county Florida. The storm was the second deadliest tropical cyclone in the history of the United States; only six tropical cyclones developed during the season. The greatest hit areas were small farming communities. The hurricane destroyed a levee that protected the area. Most of the residents of these low-lying communities were #black migrant farm workers. When the levee was destroyed, water from Lake #Okeechobee rushed into these communities, killing thousands.
After the storm, the black survivors were treated horribly by whites. They were forced to recover all the bodies of those who were killed. Food was only provided to the blacks who worked, and if a black person was not helping to remove the bodies they were shot. Only the bodies of white storm victims were allowed to be buried in coffins in local cemeteries. Blacks were refused proper burials or coffins for black victims. The bodies of Black victims were stacked in piles by the side of roads and doused with fuel, and burned. The authorities then bulldozed the bodies of 674 black victims into a mass grave in West Palm Beach. The mass grave was never marked and the site was later sold for private industrial use; it was later used as a garbage dump, slaughterhouse, and a sewage treatment plant.
The city of West Palm Beach did not purchase the land until 2000. In 2008, on the 80th anniversary of the storm, a plaque and historical marker was erected at the mass grave site. The effects of the hurricane on black migrant workers was dramatized in Zora Neale Hurston's novel Their Eyes Were Watching God.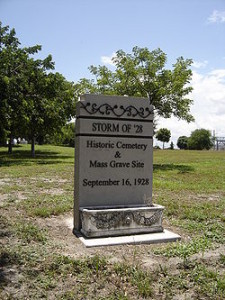 source:
http://www.ibiblio.org/uncpress/hurricanes/sept28.html
http://racialinjustice.eji.org/timeline/1920s/